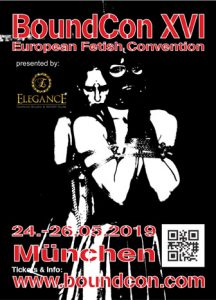 Come and see myself, Sasori, Minuit, Bettine (from this clip) and many of your longgggg time favorite bondage models and riggers at Boundcon in Munich Germany 5/24/2019 – 5/26/2019, plus the most incredible display of bondage gear and fetishwear for sale that I have ever seen under one roof! This is the BEST event and I am sooo happy to be attending the May event after a few year hiatus!  I will be there all day every day and in the hotel bar doing bondage at night I'm suuuuuure. Hugs come free, me tying you up at a price 😉

members right click here to download this mp4 or left click to stream
strappado & hogtie over 35 minutes
members right click here to download this mp4 or left click to stream
suspension over 25 minutes
Imagine my surprise when I walk into this room full of esteemed bondage folks and I was of the mindset that I would be the one tying one of these lovely ladies. My bad I didn't read the schedule well enough! Sometimes ignorance IS bliss because I would have been very nervous walking into this situation knowing what kind of a rigger Sasori is! I have not been put in many extreme ties in years and years and I haven't been touched by many strangers and my anxiety is not great. First many thanks to Bondage from overseas for recording this for me over to the side and out of the way of the people that were paying to take their own photos and videos and many thanks to the event coordinator for allowing me to post this here. The video focuses on me mostly and not the other lovely model Bettine. First I am put into a strict strappado with my mouth stuffed and head pulled back and then I am placed on top of a box. I HATE being tied on top of things and my breathing was labored due to where the thing was hitting me on the chest but I refrained from panicking, yay for me! When that came to an end I was already a bumbling idiot. Bondage is a real thing to me and it changes me headspace. It makes me high, which is why I was truly never a good damsel or model I just enjoy being tied up. So I thought it was time for a little after bondage nap after those ties but NOPE, more time left in this fan photo shoot so they get to work tying me up again in a strict chicken wing with a suspension which was truly just breaking my back ankle of all things… So now we are all done and I'm a bumbling idiot and need to pull myself together to somehow get back into top mode.
No cuts, filming straight through
Want to own part 1 of this clip and not a member here purchase it at Adaras sexualcaptive store on c4s
members right click here to download this mp4 or left click to stream
full clip, 55 minutes
members right click here to download this mp4 or left click to stream
part 1, at the bed 29 minutes
members right click here to download this mp4 or left click to stream
part 2, in the basement 25 minutes
Adara Jordin the escaped inmate is still the captive on JJ the warden. She is nude, nipple clamped, bit gagged, handcuffed and attached to the bed by a collar and cuffs. JJ comes in and brings her a pair of white thong panties, pantyhose, a mint and white bra, yellow dress and nude heels. She is forced to get dressed wearing the collar which proves to be difficult and her bra goes over her nipple clamps then it is lights out. She gets tied up on the bed mouth fucked with a dildo, more resting and then hogtied on the bed with cuffs included in the tie, pink panties in her mouth and tape around her pretty little head. She struggles and struggles until she is forced not to again and then she is told she is taken to the basement. She is bound to a wheelchair, ballgag in her mouth. She can't fight much like this, the chair is tipped over and she gets another rest and then it is lifted back up and she is wheeled to her new home, a teal colored chair in a furnace room. She is taped to the chair, and a different pair of nipple clamps are used, more mouth fucking and then some kissing, lights out, a big white ballgag and then her entire body is taped to the chair and tight tape goes over that big ballgag making her miserable. She will be left down there over night…What will come next?
members right click here to download this mp4 or left click to stream
run time 30 minutes
Apologies for the terrible lighting and camera quality, it was during the I lost the good but very hard to use camera in the divorce time. Many thanks to my dear friend Jochen for getting me a new one so there are fortunately not many clips shot with the old one- life saver you are!!
Je C thinks she is up for a part in a play. The heroine has to be tied up in the play so the casting director needs to tie her up. Je is told that she escapes and is a heroine for all women so she reluctantly agrees, but she has no idea just how difficult this will be. She is ballgagged and tied up. Her tits are tied and she is absolutely miserable. Then her mouth is stuffed and beautiful head wrapped. Later even more tape is added. The poor dear is yelping and crying. She is hogtied on her side, her beautiful hair all bound up. She is totally stuck there helpless. Will this woman ever untie her? Is there even a play she is auditioning for?
Aside from the lousy camera Je really could not deal with laying on her bound boobs, see the outtake at the end…she truly was a damsel in distress
members right click here to download this mp4 or left click to stream
run time over 30 minutes
Adorable office girl Ayla is minding her own business when a woman comes in and ties her up. She is gagged with her own scarf and then tied up before being placed in a chair. The scarf gag is not effective enough so an erotic open mouthed gag goes in to humiliate her. She drools all over herself. Next she gets put into a little ball and then finally into a hogtie after one more gag change- stuffing and cleave gag and then later more wrap over all of that and then finally some tape over that.
find her lingerie at justfigures
new model to this site, Judas!
members right click here to download this mp4 or left click to stream
not a member here and want to own this clip? Buy it from Bound and gagged in Detroit on clips4sale store 4581
run time 31 minutes
Judas is talking with her new boss when they are interrupted by her violent exboyfriend. He demands the boss tie Judas up and gag her and then he takes over. When he leaves them for a bit the boss hops to get a pair of scissors and tries to cut the ropes but he returns and grabs them from her before she can stab him. Eventually the two women end up helpless in hogties with their mouth stuffed with bandanas and heads wrapped with microfoam tape. He even tosses them the scissors to try to escape. JJ grabs them but they are way to dull and her hand is working correctly, she cuts a rope but it is not enough. The crazed ex returns and gets his girl off from the floor and escorts her out leaving JJ there.
members right click here to download this mp4 or left click to stream
run time 54 minutes, full version
members right click here to download this mp4 or left click to stream
cuff part
members right click here to download this mp4 or left click to stream
the rest of it
A crazed woman hires an escort that looks a lot like her missing lover Carissa. The two quickly get into making out and then the woman stands up to get her pretty little visitor a cocktail. Curious about the contents of the bag next to her the escort opens it and is horrified about the bdsm items she sees inside,she isn't kinky like that and didn't even want to wear the pvc dress. The woman that hires her is disappointed that the girl isn't willing to play her kinky game so she makes her go out. Then Adara Jordan (the girl)  is all cuffed up against her will. She is hit with a flogger, pantyhose ripped, panties ripped off and she was given a vibrator and told to try to get herself off. Then she was hogcuffed with a leg of her pantyhose over her head and her bra stuck over her eyes.  Next the pretty escort appears in the basement and tied and gagged in a chair before the woman comes back in for more fun. Her gag is removed and then her head goes into a latex hood connected to latex shorts. She can barely breathe as she is forced to have some fun with her captor. Next a dick on a stick is used on the pretty whore and she is left gagged and hogtied on the floor unsure of whether she was in heaven or hell just waiting to see what will happen next….
members right click here to download this mp4 or left click to stream
run time 35 minutes
Anna is a bossy boss and her employees think she needs an attitude adjustment so they hire a domme to adjust her attitude. The woman walks in and drops her trenchcoat and approaches the pretty young woman. Anna laughs and pushes the domme towards the door but the woman turns around and twists her arm and says she has been paid to do this job. Anna complies and finds herself actually enjoying the encounter for the most part which is NOT what her employees were expecting but the domme is having a great time. Anna is gagged with a stocking and layers and layers of pantyhose. She struggles in various positions in her reinforced toe pantyhose before being hogtied and then hooded with another stocking. When the domme decides to leave Anna there for the rest of the session Anna panicks and begs her not to go, she does anyway promising to be back. When she comes back she ungags Anna and asks her if she'd like to go out for a drink
3rd update of last week
members right click here to download this mp4 or left click to stream
run time almost 34 minutes
Tony and JJ have Vanilla Sky against her will. They are expecting a good deal of money for her from her boyfriend, only he isn't coming through for her….Vanilla is tied and groped and nipple clamped. She tries hard to reject a panty gag which just gets layers and layers of various things like vetwrap and microfoam wrapped tightly around her pretty face. Her pantyhose are ripped and finally when it seems like it is time to get out of there Tony turns on his accomplice JJ and hogcuffs her attaching her to a small ladder. He stuffs her mouth and gags her as well. After some time he removes the hogtie rope and escorts Vanilla out of the room. What will happen to JJ????
3rd update of the week
members right click here to download this mp4 or left click to stream
run time over 25 minutes
members right click here to download this mp4 or left click to stream
self bondage only, run time over 4 minutes
Dakkota has a married lover. She has on a french maids uniform and stockings and she gets to work binding herself up for him, a small ballgag, ankle cuffs and hinged cuffs around a pole. After a few minutes the angry wife enters- not the lover. She tied her arms behind her back while wearing the cuffs. She keeps the hinged cuffs on the pretty womans ankles. She takes out one of her bra pads and stuffs her mouth with it sealing it shut with tape. She leaves her in a chair to struggle for a bit before making her get to her knees where she is hogtied leaning over the chair. Her arms ache, her hands are purple. She won't be left like this though. She is put on the floor after more tape is added to her gag and then for a little humiliation her tall high heel is tape around her face.  She gets left like that for a while until her lover comes in and finds her. He unwraps her gag and she yells that his wife is crazy…
BONUS CLIP UPDATE
an apology for late updates, shot by Tony and available soon at the girlfriend bound clips4sale.com/19193
members right click here to download this mp4 or left click to stream
run time 12 minutes and 40 seconds
Anna was dru gged at a Halloween party and ends up bound in an unusual hogtie by a masked man with a harness gag in her Xena costume