Archive for the 'My Journal' Category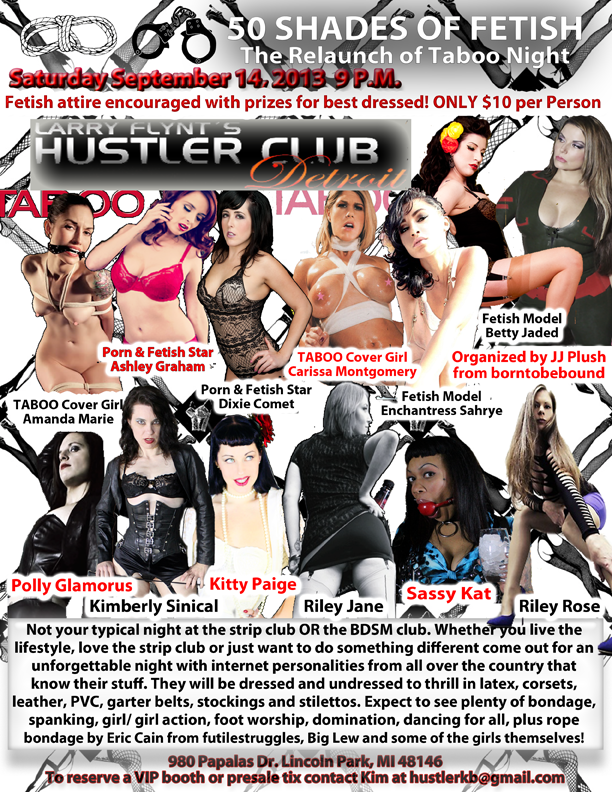 Final flyer for the event Saturday September 14 at the Hustler Club just south of Detroit, 15 minutes from DTW airport.
So wow, I can't believe how many ladies are coming out to help me do this- Amanda from Oh, Ashley from GA, Sahrye from Jersey, Carissa from Phili & Betty Jaded from New York- plus a bunch of my favorite southeast Michigan girls! A rare treat to see all of these girls under one roof with access to them. Plus many of them are available for domme and perhaps sub sessions.
It is only $10 to get in which is cheaper than on some of that clubs normal night.
The food is actually incredible too. Eric Cain from futilestruggles says they have the best filet he has ever had and they have a $10 special. Come and  make a night of it! The girls are volunteering their time, knowing they can make some money working for borntobebound ahead of time and working for tips and doing me a big favor by attending!
IF you see this here on borntobebound and attend the party come up to me or Tony that does a lot of the rigging on this site and runs gotcuffs & hogcuffed and tell us your name and email and I'll give you a 30 day subscription to borntobebound.  If you are considering flying out please email me. I'll suggest hotels, restaurants, night life…Detroit has a bad reputation but let me tell you there is plenty of fun here or else I wouldn't have convinced Eric Cain, Tony and Dixie Comet to move here

On another note if you would like a custom video with any of those ladies while they are here please send me a message jj@borntobebound.com.
Journal Update
Hi Everyone.
The rest of the month will be busy with traveling girls, and some of them staying with me for extended periods of time like Caroline Pierce and Nyxon. If you would like a custom video with either of those girls please let me know jj@borntobebound.com. They would really appreciate it especially Caroline who paid the bill for her flight here from Vegas. This will be my first time shooting her in my studio! I also haven't seen Nyxon since she got that new pair of 34D boobs.
Constance and Tomiko will also be traveling through as well as a very tiny, very flexible mature woman named Lisa from Texas.
Also I opened up an etsy store…Right now I only have my shirts and mugs but I'll soon have vintage lingerie, prints and an assortment of other Etsy allowed things.
http://www.etsy.com/shop/borntobebound
Thanks for your membership support everyone it means a lot. I don't hear much out of you as far as what you like and don't like about the clips. I'm hoping that no news means good news and repeat membership orders should speak for themselves…Nevertheless don't be afraid to tell me what you would like to see more of.
Upcoming I hope to be throwing a big fetish night at the Hustler Detroit in September. I get to set the entrance fee and I'm setting it cheap. There will be fetish performances, private rooms that will offer foot worship and spanking sessions and soooo much more as well as awesome deals on meals. A few of your favorite ladies from this site will be there. I'll post more when I have the info.
I will also have a booth at the Skin Two Exxotica Expo in Detroit the weekend of September 27. Please come and say hello.  I think I am performing with Julie Simone one night and then Dixie Comet and I will perform another night- rope stuff.
Have a great weekend!
JJ
Journal Update
Sorry for the Wednesday delay. I think my editing computer is about to bite the dust, horrible timing.
Tomorrow I am driving down to Florida, mostly for family stuff but I will be shooting Gigi on Monday night and Summer Peters on Tuesday in home settings if anyone would like a custom. I am not sure when I will see either of them again since Gigi won't be attending Boundcon this year and I won't be attending Fetishcon. I'll have downtime in Florida and I'll be able to edit a bunch of photosets to post as bonus updates as I sit by the pool and sun myself.  Later this month Constance is coming back and of course I'll be shooting lots of local girls.
The kinks are being worked out and more clips transferred to the new  borntobebound and it is looking very professional and sooo user friendly. I did a test with my webmaster/ troubleshooter/ significant other Tony and streamed a clip to my iphone. It worked beautifully! 

. I personally hate waiting for HD clips to download. I prefer to stream. I'm excited to offer streaming!
Several of you send in money orders for monthly subscriptions. I'm not good at going to get those money orders and depositing them and then manually adding people. It just isn't one of my strengths and I don't have a team of people doing things for me. I'm leaving for Germany May 22 for Boundcon and after that I won't be accepting money order subscriptions for less than a 5 month period. There is a deal with that….You get five months for $100 since I don't have to pay visa/mastercard fees.  I'll add this tidbit to the membership area.
Journal Update
Many thanks to those of you that took the time to vote for the fans choice for Guest of Honor at Fetishcon this summer.
Amazingly enough Fetishcon announced on their Facebook page that there was a 3 way tie and I am one of the 3!
They will be opening another poll this Monday for only 24 hours to let people vote again for 1 of the 3 of us.
I'm not sure if it will be the same link or another one. I'll post it again once I know. I'm so sorry to have to bug everyone about this again! I thought it would be a one time thing.
It will mean a lot to the girl that wins because the flight to Florida, hotel room at the Hyatt during the event and the booth for the girl to advertise herself will be paid for by the Fetishcon hosts. Sooo please vote again for your favorite (even if it is not me) once the poll goes back up on Monday.
Not sure what Fetishcon is? Click on their banner

Hi,
I just wanted to let everyone know that I am sorry that today's update is not on the site yet.  I have been having problems with my internet today and can't get the clip loaded.  You will get 2 updates tomorrow to make up for today's update being late.
Thanks,
JJ Plush
JOURNAL UPDATE
I'm super flattered and amazed that I've been nominated for fans choice for the last Guest of Honor spot this summer at Fetishcon, the biggest fetish event in the States!!
Just click VOTE HERE and then JJ Plush or one of the other 9 great ladies to cast your vote! Whoever gets it receives a flight down, tradeshow booth and hotel room for the event which will be a big deal for one of us so please don't forget to vote before March 28.
Unlike most contests you don't have to sign up for anything or vote more than once, just 5 seconds of your time. Do it now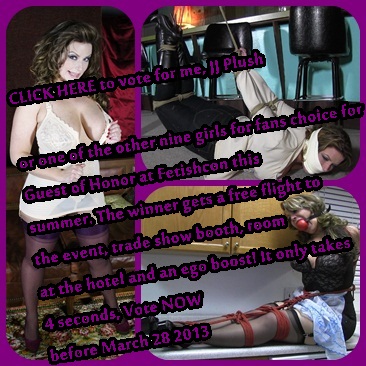 Journal Update
Sorry to say that there will not be a Monday update this evening BUT to make up for it I'll post 2 clips on Tuesday. Good deal right?? One of them will be of skinny little hottie Madalynn Raye and the second one of a local curvy cutie and newbie to bondage modeling. So check back tomorrow evening…Later this week a clip of me all tied up and a clip of Carissa in zipties.
On another note I've been slowly moving the last clips over to the new website that will offer streaming. You can watch on your smart phone. Of course you will still be able to download the clip BUT if you want instant gratification you will get it. I won't be able to move everything for quite a while…so I'll leave up an archive site until it can all be switched. It is a pricier system to run but I think it will pay off later and keep with the times and make people happy

Coming to see me Wednesday and Thursday this week is Steve Villa from Girl Next Door bondage soooo if you have been wanting to see me as a true damsel again think about emailing over a scenario- maybe we can use it. While he is here we will also have Dixie Comet and Sass around.
Later this month I'll be seeing Sahrye, Gigi and perhaps Fayth on Fire. I have to take care of some family business in Florida but I plan to sneak a few shoots in. Time and resources will be limited but custom videos are available and those girls are some bondage fan favorites.
Thanks so much for your support!! The last two weeks have been the best in memberships thus far. Remember if you have been considering a membership but don't like to pay with a credit card you can send in a money order. It just takes me some time to handle that- no instant gratification there.
If you see something you like but don't like to join sites consider visiting my clips4sale store. Clips there are not a good deal, but they are available for purchase individually.
Hope everyone is keeping warm…It is pretty snowy and cold here. I haven't had much time at the computer to sit down and answer long emails… I hope to get to them soon. IF you feel I have skipped something that you have sent me PLEASE feel free to send it again– jj@borntobebound.com
Also if you aren't too far from Detroit- this Friday night I'll be at the Detroit Dirty Show  please say hello.  March 2nd I'll be at the Noir Leather show in Detroit and doing a girdle bondage show with Dixie Comet.
Below are some photos from yesterday of me going back to my pin up modeling roots yesterday in girdles and GIO stockings from girdlebound.  Tony/ Gotcuffs shot those for me.
Have a great night, or day…
JJ
JOURNAL UPDATE
Hi Everyone!
Sadly Ashley Graham and Crystal Frost had to cancel their trips so I don't have any new content with them.
Summer Peters is in town and I hope to take advantage of her as much as possible. She is one slender bendy and tough little woman! Of course I love the fuller figured ladies…I love seeing someone in bondage and knowing it isn't easy for them but they are toughing it. Skinny girls generally make it look too easy for my taste. It bores me since I like to tough it out myself, BUT, as a rigger with someone like Summer I know just about anything I do to her isn't going to hurt her, unless I screw something up and it takes a lot off of my mind.
Pretty soon I'll be headed to Fetishcon in Tampa. I don't have paid gigs booked- not doing any myself with other producers and currently don't have any girls hired. I DO have a booth in hopes of meeting potential new girls and actually  mingling. I've been to Fetishcon A LOT, but I usually only spend about 15 minutes on the floor the entire event. Of course this will force me to meet people and I'm looking forward to it! I would like to hire a girl or two, preferably girls I haven't had the opportunity to work with…I don't want to do much work there because I'm tired of hotel rooms. If you have model recommendation please write me: jj@borntobebound.com
I also realized that I've been doing way too many hogties and Craigslist videos. I'll try to change it up. IF you have any suggestions please message me. Most of the suggestions I get include using about 5 of the top girls in the industry and locations that are just not feasible, soooo if you have a tie idea OR scenario that would work with two people and someone on camera PLEASE message me: jj@borntobebound.com
On another note my significant other (Tony/ gotcuffs) decided he just HAD to buy a boat…My condo is across the street from a large body of water and there are lots of marinas nearby that look enticing to someone that isn't from the area that doesn't know anything about boating. I tried to be the voice of reason and tell him not to pursue it. My family had a boat growing up and I saw the trouble and expense that went into it, plus the season is sooo short here in Detroit AND we still have A LOT of work to do on the studio space.  Well he didn't really listen to my warning and went ahead with it soooo we now have a big old boat we can shoot on. Although I don't think it was the wisest decision…life is short and I will gladly take advantage of it!! lol.  Amazingly enough we are keeping it at an old friends marina. A fella that was one of my customers during my automotive industry days is running the place. He knows what I do and is OK with us shooting outside during the week when there are few people around! So far I have just shot one clip at the marina and on the boat, and that was with a new girl named Polly. I'm looking forward to another new environment to work in!!
In August I plan on taking a bit of a break from having people stay at the house and I'll just work with local girls. There are A LOT of things I want to work on at the studio and my house, BUT Dixie Comet will be coming through as well as Nyxon, aside from that I am just saying no to house guests (as hard as that is) sooo if you'd like a custom clip with them, please message me.
Also, let me apologize for being lousy at emails. The amount I get since opening this paysite has been overwhelming for a scatterbrained individual likes myself. Don't get me wrong, I am sooo incredibly thankful to get input and hear from people. I was told over and over from some of my closest friends in the industry that I would never "make it" and so far they were wrong.  Opening the website was the best decision I've made in YEARS! Sadly I just don't have the time to message back and forth with people a bunch. I wouldn't have enough time to actually shoot the content, edit it and post it. YES, I do it all myself. The only thing I don't do is troubleshoot. Please don't let that stop you from saying hello or giving your input, just understand I can't write you a dozen times and explain my life story, and I don't have people writing pretending to be me like a  lot of others….I'm sorry for that and don't mean to seem standoffish. I'm so thankful for being able to do this and value your input.
Also bondageawards.com is back open again this year. You should stop by. There are a TON of categories. You don't have to sign up for anything and you won't be spammed. One of the categories is best new bondage site. HINT HINT

!
Later this evening a clip of Summer Peters will go up. I'll also post a few bonus photosets over the weekend. I'm trying to get caught up on those.
Have a great weekend everyone!
~JJ
Hi everyone!
My computer was being fixed and I haven't had any time to respond to emails…I will be at the computer Saturday afternoon and I'll get back to those of you that are waiting for responses. Happy Weekend!
JJ