Archive for the 'My Journal' Category
JOURNAL UPDATE
Hi Everyone,
A total bitch fest, feel free to skip to the updates.
Still struggling to get the lingerie company organized. The people that shipped the inventory couldn't have done a shittier job packing it up to send it and I can't help but think that the fella would have been a little more careful had he been sending it to a legitimate company and not some fetish girl named JJ Plush, complete negligence on behalf of the company that shipped the stuff!  I worked a total of 41 hours from Thursday night to Monday night just putting items into containers because they were shipped so poorly  that about 50 of the plastic bins containing the items shattered so lingerie went everywhere. So then on top of that 50 new $8 bins had to be purchased. I also had friends helping for a total of 21 hours from Friday-Monday night and had to pay them each $10 an hour for their help. So then I was 4 days behind and I couldn't ship out the items, two weeks of backed up orders! On top of it I'm inventorying 1000s of items because there wasn't a real system in place at the other company. I'm not going to lie, I've been  having little crying fits and doubts.  My body and mind are exhausted and there is no end in site.  Had the inventory arrived in tact it only would have taken a few hours to get them in order and onto the shelves we bought and  it wouldn't have been as overwhelming. Oh yes and the boxes they chose to ship things in  were  7o lbs  each 30 x 30 x 30 boxes that Tony and I had to put into a uhaul and transport here from the warehouse that received them spread out over 3 days. They skimped on tape, so many of them opened on their own out in the snow as we were carrying them into our place. My life long dream of running a lingerie store has become nothing but an absolute money pit of a nightmare. I knew it would be hard work and a big learning curve but I didn't think I'd be wasting DAYS fixing other peoples screw ups.
On top of it I don't have children but I do have pets. I've had a cat for 17 years. He has made many guest appearances at borntobebound, futilestruggles, Girl Next Door, gotcuffs and several others. I got him when I got my first apartment in college. No matter what has gone on in my life the cat was there and a part of it and happy to sit on my lap and purr. He was personality plus and a good companion. I don't know an adult life without him. He died on Thursday. He had been old, sick and weak but he took a nose dive in a matter of 5 hrs. He was suffering and it was heartbreaking because the damn cat represents a lot more to me than just being a cat,  him passing away somehow reconfirms that my young adult years are long gone (I'm 35). I didn't even have time to mourn, 3 hours of downtime with him while he was dying and then back to work. I'm emotional and wear all of my emotions of my sleeve. I wanted an entire night of drinking wine and feeling sorry for myself and looking at photos from a long time ago. That would have hit the spot. He held my finger with his paw and took his final breath in my arms.  To make things worse I thought the big dog Sookie was sick Friday when I got up she wasn't responsive to much of anything. It turns out she is just heartbroken! I had no idea that kind of thing would happen! It is hard to see and makes my heart hurt even more. My little yorkie Simon is totally clueless.  I have been living at our studio with the pets for well over a month because I'm working too many hours to make it worth going home at all. I always loved the studio because it represented bondage fun and party time, but not so much anymore.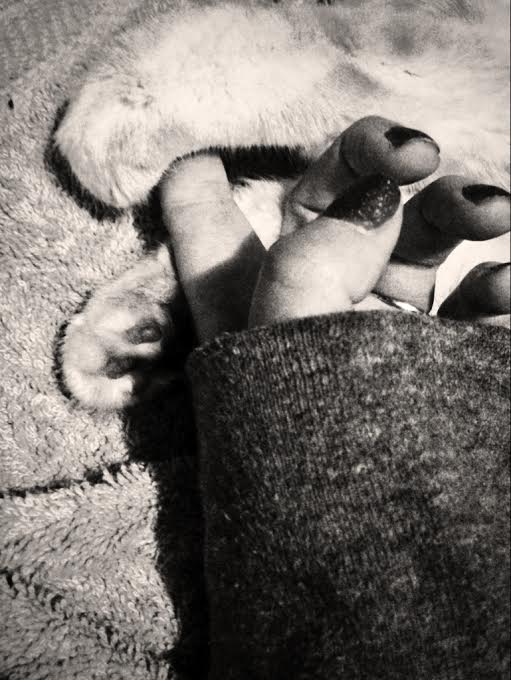 I don't mind working hard, but I hate wasting time and fixing things that shouldn't need fixing. I also understand that there are plenty of people working 15 -18 hour days that will never be able to do anything other than that… I get it, just for me and the life I've gotten used to this is really bad. The -10 degree days don't help.
So as I mentioned a while back, most emails to me will not be responded to right now, there simply are not enough hours in the day. This is a screen shot of my phone from this afternoon.
I try not to be too much of a whiner. I just feel buried absolutely buried right now.
If you've ever thought about sending me something- a happy card, a sweater for a model on the site to wear, a kind of tape you like for a gag, a hot pair of heels you'd like to see someone wear, a $10 coffee gift card, a pair of fuzzy slippers or just join the site for a month if you have been considering it,  etc, etc…now would be a good time.  It would be nice to pick up the mail to find something thoughtful. I would make sure to send a thank you cellphone clip via email. I was sent to boarding school in Connecticut when I was 15, getting packages was the greatest thing ever since I was trapped up on a hill, I'm feeling trapped now just at the bottom trying to work my way back up.
Thanks for reading this, and thanks even more if the entire thing didn't make you just roll your eyes in disgust at me for being so mopey when life could be worse.
Oh and on another note the last two mp4 clips were encoded differently so that you might be able to stream from your desktop….I hope it works.
Have a good weekend! Have some fun for me and give your pets big hugs.
JJ
Journal Update
Hi Everyone. I hope some of you are enjoying the much faster to download mp4. I plan to keep posting it.  A few weeks back I visited LA and I shot with Dixie, Ashley Renee, Ashley Graham, Rain Degrey, Cici Rhodes, Christie Cutie and Davina Darling. It was a whirlwind trip with LOTS of shooting. Next I'm off to Vegas during AVNs. I'll be shooting Dixie, Star, Ashley Graham and if the stars align Casey Calvert!! If anyone would like a custom with any of them write me at jj@borntobebound.com label it CUSTOM. I'll be renting a house, not a hotel room.
Then I'll be in Detroit for a while…I'm going to be 1/2 owner of girdlebound.com with a name change to justfigures.com coming soon. I've wanted a specialty lingerie store with that name since I woke up with DDs when I was 13 so this is really a dream come true…Girdlebound will still be galleries. The website will be completely new/ up to date and user friendly.  I'll be running day to day operations and as soon as the items get here I have to shoot shopping cart photos for all of the items! It is going to be a huge change in my lifestyle that will have me busier than I have ever been in my entire life for the first year that will hopefully pay off down the road. Yes, I'll still be shooting for borntobebound and doing very select sessions that interest me, plus shooting more for www.clips4sale.com/41191. I will probably be here in freezing Detroit (-25 with the wind chill today) until Boundcon in Munich this May and then I do plan to attend Fetishcon this summer and take a truck load of justfigures items with me…
Pantyhose lovers don't worry, things won't change at borntobebound, there will still be LOTS of pantyhose clips.
I hope everyone enjoyed the holidays. Happy New Year! To those of you suffering in the cold like me try to keep warm and your spirits high!
Thanks for your support!!!!
JJ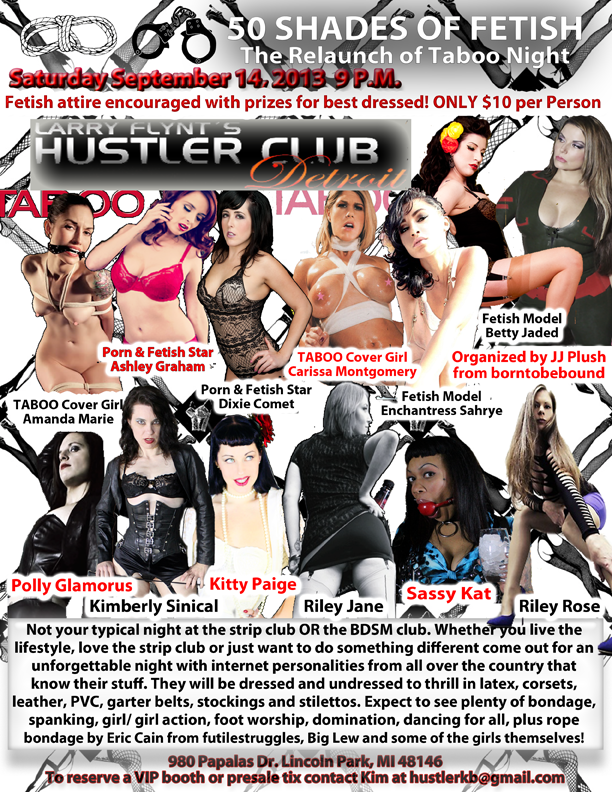 Final flyer for the event Saturday September 14 at the Hustler Club just south of Detroit, 15 minutes from DTW airport.
So wow, I can't believe how many ladies are coming out to help me do this- Amanda from Oh, Ashley from GA, Sahrye from Jersey, Carissa from Phili & Betty Jaded from New York- plus a bunch of my favorite southeast Michigan girls! A rare treat to see all of these girls under one roof with access to them. Plus many of them are available for domme and perhaps sub sessions.
It is only $10 to get in which is cheaper than on some of that clubs normal night.
The food is actually incredible too. Eric Cain from futilestruggles says they have the best filet he has ever had and they have a $10 special. Come and  make a night of it! The girls are volunteering their time, knowing they can make some money working for borntobebound ahead of time and working for tips and doing me a big favor by attending!
IF you see this here on borntobebound and attend the party come up to me or Tony that does a lot of the rigging on this site and runs gotcuffs & hogcuffed and tell us your name and email and I'll give you a 30 day subscription to borntobebound.  If you are considering flying out please email me. I'll suggest hotels, restaurants, night life…Detroit has a bad reputation but let me tell you there is plenty of fun here or else I wouldn't have convinced Eric Cain, Tony and Dixie Comet to move here

On another note if you would like a custom video with any of those ladies while they are here please send me a message jj@borntobebound.com.
Journal Update
Hi Everyone.
The rest of the month will be busy with traveling girls, and some of them staying with me for extended periods of time like Caroline Pierce and Nyxon. If you would like a custom video with either of those girls please let me know jj@borntobebound.com. They would really appreciate it especially Caroline who paid the bill for her flight here from Vegas. This will be my first time shooting her in my studio! I also haven't seen Nyxon since she got that new pair of 34D boobs.
Constance and Tomiko will also be traveling through as well as a very tiny, very flexible mature woman named Lisa from Texas.
Also I opened up an etsy store…Right now I only have my shirts and mugs but I'll soon have vintage lingerie, prints and an assortment of other Etsy allowed things.
http://www.etsy.com/shop/borntobebound
Thanks for your membership support everyone it means a lot. I don't hear much out of you as far as what you like and don't like about the clips. I'm hoping that no news means good news and repeat membership orders should speak for themselves…Nevertheless don't be afraid to tell me what you would like to see more of.
Upcoming I hope to be throwing a big fetish night at the Hustler Detroit in September. I get to set the entrance fee and I'm setting it cheap. There will be fetish performances, private rooms that will offer foot worship and spanking sessions and soooo much more as well as awesome deals on meals. A few of your favorite ladies from this site will be there. I'll post more when I have the info.
I will also have a booth at the Skin Two Exxotica Expo in Detroit the weekend of September 27. Please come and say hello.  I think I am performing with Julie Simone one night and then Dixie Comet and I will perform another night- rope stuff.
Have a great weekend!
JJ
Journal Update
Sorry for the Wednesday delay. I think my editing computer is about to bite the dust, horrible timing.
Tomorrow I am driving down to Florida, mostly for family stuff but I will be shooting Gigi on Monday night and Summer Peters on Tuesday in home settings if anyone would like a custom. I am not sure when I will see either of them again since Gigi won't be attending Boundcon this year and I won't be attending Fetishcon. I'll have downtime in Florida and I'll be able to edit a bunch of photosets to post as bonus updates as I sit by the pool and sun myself.  Later this month Constance is coming back and of course I'll be shooting lots of local girls.
The kinks are being worked out and more clips transferred to the new  borntobebound and it is looking very professional and sooo user friendly. I did a test with my webmaster/ troubleshooter/ significant other Tony and streamed a clip to my iphone. It worked beautifully! 

. I personally hate waiting for HD clips to download. I prefer to stream. I'm excited to offer streaming!
Several of you send in money orders for monthly subscriptions. I'm not good at going to get those money orders and depositing them and then manually adding people. It just isn't one of my strengths and I don't have a team of people doing things for me. I'm leaving for Germany May 22 for Boundcon and after that I won't be accepting money order subscriptions for less than a 5 month period. There is a deal with that….You get five months for $100 since I don't have to pay visa/mastercard fees.  I'll add this tidbit to the membership area.
Journal Update
Many thanks to those of you that took the time to vote for the fans choice for Guest of Honor at Fetishcon this summer.
Amazingly enough Fetishcon announced on their Facebook page that there was a 3 way tie and I am one of the 3!
They will be opening another poll this Monday for only 24 hours to let people vote again for 1 of the 3 of us.
I'm not sure if it will be the same link or another one. I'll post it again once I know. I'm so sorry to have to bug everyone about this again! I thought it would be a one time thing.
It will mean a lot to the girl that wins because the flight to Florida, hotel room at the Hyatt during the event and the booth for the girl to advertise herself will be paid for by the Fetishcon hosts. Sooo please vote again for your favorite (even if it is not me) once the poll goes back up on Monday.
Not sure what Fetishcon is? Click on their banner

Hi,
I just wanted to let everyone know that I am sorry that today's update is not on the site yet.  I have been having problems with my internet today and can't get the clip loaded.  You will get 2 updates tomorrow to make up for today's update being late.
Thanks,
JJ Plush
JOURNAL UPDATE
I'm super flattered and amazed that I've been nominated for fans choice for the last Guest of Honor spot this summer at Fetishcon, the biggest fetish event in the States!!
Just click VOTE HERE and then JJ Plush or one of the other 9 great ladies to cast your vote! Whoever gets it receives a flight down, tradeshow booth and hotel room for the event which will be a big deal for one of us so please don't forget to vote before March 28.
Unlike most contests you don't have to sign up for anything or vote more than once, just 5 seconds of your time. Do it now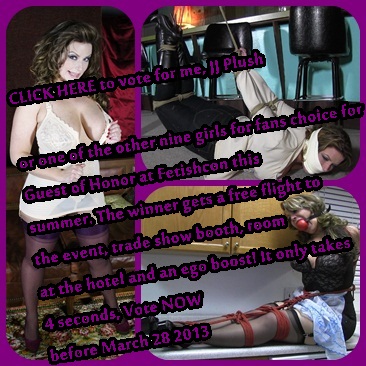 Journal Update
Sorry to say that there will not be a Monday update this evening BUT to make up for it I'll post 2 clips on Tuesday. Good deal right?? One of them will be of skinny little hottie Madalynn Raye and the second one of a local curvy cutie and newbie to bondage modeling. So check back tomorrow evening…Later this week a clip of me all tied up and a clip of Carissa in zipties.
On another note I've been slowly moving the last clips over to the new website that will offer streaming. You can watch on your smart phone. Of course you will still be able to download the clip BUT if you want instant gratification you will get it. I won't be able to move everything for quite a while…so I'll leave up an archive site until it can all be switched. It is a pricier system to run but I think it will pay off later and keep with the times and make people happy

Coming to see me Wednesday and Thursday this week is Steve Villa from Girl Next Door bondage soooo if you have been wanting to see me as a true damsel again think about emailing over a scenario- maybe we can use it. While he is here we will also have Dixie Comet and Sass around.
Later this month I'll be seeing Sahrye, Gigi and perhaps Fayth on Fire. I have to take care of some family business in Florida but I plan to sneak a few shoots in. Time and resources will be limited but custom videos are available and those girls are some bondage fan favorites.
Thanks so much for your support!! The last two weeks have been the best in memberships thus far. Remember if you have been considering a membership but don't like to pay with a credit card you can send in a money order. It just takes me some time to handle that- no instant gratification there.
If you see something you like but don't like to join sites consider visiting my clips4sale store. Clips there are not a good deal, but they are available for purchase individually.
Hope everyone is keeping warm…It is pretty snowy and cold here. I haven't had much time at the computer to sit down and answer long emails… I hope to get to them soon. IF you feel I have skipped something that you have sent me PLEASE feel free to send it again– jj@borntobebound.com
Also if you aren't too far from Detroit- this Friday night I'll be at the Detroit Dirty Show  please say hello.  March 2nd I'll be at the Noir Leather show in Detroit and doing a girdle bondage show with Dixie Comet.
Below are some photos from yesterday of me going back to my pin up modeling roots yesterday in girdles and GIO stockings from girdlebound.  Tony/ Gotcuffs shot those for me.
Have a great night, or day…
JJ