Posts Tagged 'tight hogtie'
members right click here to download this mp4 or left click to stream
run time 46 minutes
It was my 41st birthday on June 2 of this year and I got some bondage with rubber straps from Sasori of minuitsasori. I smile nervously as he gets to work on me. I had no idea what to expect, plus we have a bit of a language barrier… Aside from Boundcon the week before I hadn't been tied tightly in months and months and months so I was out of practice, broken hearted, robbed blind and having a tough go at life which makes me pretty tense and unable to relax and obviously I am not a young lady with natural flexibility. However I did not panic and got through it all, which included an elbow tie, breast suspension (the second one ever, the first one was at Boundcon the week before) a chair tie, a hogtie and then breasts pulled up while in a hogtie. It was an enormous mental and physical challenge for me personally but I felt great after, despite the tears. Sasori is wildly talented, each time I thought I had to quit he knew and changed things up without a word from me. I'm glad I got a chance to be in his ropes or rubber straps as this was, lol.
The link should be correct now  6/17 10:47AM EST
members right click here to download this mp4 or left click to stream   
run time 30 minutes
This is the very first time I tied up the lovely young lady! There were some issues with her camera battery dying and then her card being full so I eventually had to go get mine which I should have demanded we used from the get go because I knew it was charged with an empty card. Live and learn. She will be visiting me from Europe in Sept. Order a custom, I promise she is worth it!!
So beautiful young Diamondly is brought in wearing a ballgag from www.allaboutgag.com with an open bottom girdle, fully fashioned stockings and lacy bra. She gets tied at the elbows and put into a strappado with a crotch rope and then one leg is pulled up. She balances on a platform heel making it look like a breeze. Her hair gets roped up and pulled back, she sways back and forth making lovely noises until she is shown getting her legs tied differently and then a chicken wing elbow tie still wearing the same ballgag. She stands tall as the ropes go on making adorable faces and drooling. Next she gets a pair of my thong underwear shoved in her mouth and vetwrap for a tight cleave. She gets to the ground and then is hogtied before being tied off to the ceiling above. A ballgag is added over the cleave but I  decided that it wasn't such a good look, so much more vetwrap goes around her angelic little head. She mmmphs about all doe eyed…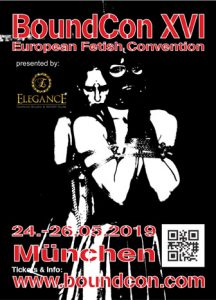 Come and see myself, Sasori, Minuit, Bettine (from this clip) and many of your longgggg time favorite bondage models and riggers at Boundcon in Munich Germany 5/24/2019 – 5/26/2019, plus the most incredible display of bondage gear and fetishwear for sale that I have ever seen under one roof! This is the BEST event and I am sooo happy to be attending the May event after a few year hiatus!  I will be there all day every day and in the hotel bar doing bondage at night I'm suuuuuure. Hugs come free, me tying you up at a price 😉

members right click here to download this mp4 or left click to stream
strappado & hogtie over 35 minutes
members right click here to download this mp4 or left click to stream
suspension over 25 minutes
Imagine my surprise when I walk into this room full of esteemed bondage folks and I was of the mindset that I would be the one tying one of these lovely ladies. My bad I didn't read the schedule well enough! Sometimes ignorance IS bliss because I would have been very nervous walking into this situation knowing what kind of a rigger Sasori is! I have not been put in many extreme ties in years and years and I haven't been touched by many strangers and my anxiety is not great. First many thanks to Bondage from overseas for recording this for me over to the side and out of the way of the people that were paying to take their own photos and videos and many thanks to the event coordinator for allowing me to post this here. The video focuses on me mostly and not the other lovely model Bettine. First I am put into a strict strappado with my mouth stuffed and head pulled back and then I am placed on top of a box. I HATE being tied on top of things and my breathing was labored due to where the thing was hitting me on the chest but I refrained from panicking, yay for me! When that came to an end I was already a bumbling idiot. Bondage is a real thing to me and it changes me headspace. It makes me high, which is why I was truly never a good damsel or model I just enjoy being tied up. So I thought it was time for a little after bondage nap after those ties but NOPE, more time left in this fan photo shoot so they get to work tying me up again in a strict chicken wing with a suspension which was truly just breaking my back ankle of all things… So now we are all done and I'm a bumbling idiot and need to pull myself together to somehow get back into top mode.
No cuts, filming straight through
This was a custom, interested? jj at borntobebound.com
I'll be in emails tonight.
members right click here to download this mp4 or left click to stream
run time 51 minutes
members right click here download this mp4 or left click to stream
metal bondage 28 minutes
members right click here to download this mp4 or left click to stream
starting with rope bondage, run time 19 minutes and 37 seconds
Adara was held for ransom.  If JJ didn't receive the money from Adara's girlfriend things weren't gonna go so well for Adara.  Adara is handcuffed to the pole when JJ comes in to remind her that her girlfriend better come through with the money.  She gags her and shackles her while she is handcuffed tot he post with her arms behind her.  She changes her gag then hog cuffs her on the floor with hinged cuffs, regular cuffs and 3 pair of leg irons.  She struggles around as JJ fondles her.She adds more shackles and cuffs to her.  She hoods her and takes her into her jail cell where Adara continues to struggle.  She balls gags her and hog cuffs her in the jail cell and she struggles around. Now it is time for some real bondage, cruel hamburg 8 cuffs and tight arm ropes and leg ropes. Her mouth is stuffed and she gets a nylon hood over her head with a stocking and then a stocking for a blindfold. She is left with throbbing arms absolutely miserable just hoping that her girlfriend comes through.
members right click here to download this mp4 or left click to stream
run time 30 minutes
Apologies for the terrible lighting and camera quality, it was during the I lost the good but very hard to use camera in the divorce time. Many thanks to my dear friend Jochen for getting me a new one so there are fortunately not many clips shot with the old one- life saver you are!!
Je C thinks she is up for a part in a play. The heroine has to be tied up in the play so the casting director needs to tie her up. Je is told that she escapes and is a heroine for all women so she reluctantly agrees, but she has no idea just how difficult this will be. She is ballgagged and tied up. Her tits are tied and she is absolutely miserable. Then her mouth is stuffed and beautiful head wrapped. Later even more tape is added. The poor dear is yelping and crying. She is hogtied on her side, her beautiful hair all bound up. She is totally stuck there helpless. Will this woman ever untie her? Is there even a play she is auditioning for?
Aside from the lousy camera Je really could not deal with laying on her bound boobs, see the outtake at the end…she truly was a damsel in distress
members right click here to download this mp4 or left click to stream
run time 30 minutes and 30 seconds
Rachel Adams doesn't know what is happening when a very angry woman barges into her office and cuffs her behind the back. She makes her stand up and brings her out in front of the desk ballgagged. Her arms are hoisted up cuffed, she is slapped with ropes and her pretty stocking clad legs get all roped up. She is nipple clamped and then her mouth is stuffed and head wrapped. The cuffs are removed and her arms are tied up tighter. She is left to struggle in humiliation, making her way to the floor and sticking her nice satin panty clad ass out. Her captor returns and puts her into a chicken wing hogtie and then wraps plastic over her head and makes her eyes big and green..
members right click here to download this mp4 or left click to stream
full clip, run time 30 minutes
members right click here to download this mp4 or left click to stream
19 minutes struggling & then the hogtie
Nyssa Nevers is a flight attendant that is having an affair with JJs pilot husband. Nyssa doesn't know that JJ was messaging her from her hubbys phone and set up this meeting at a fake bar to mess with her. JJ gives Nyssa something special in her drink making it much easier to take advantage of her. When she starts to pay attention again her wrists are tied and her ankles are tied but she is able to get up to her feet, sheer white panties and cuban stockings on display for us. She is told to hop about, massive tits on display. She gets ballgagged and then struggles around on the floor before being gagged with one of her own gloves. Her head is wrapped with vetwrap and then loads of microfoam, she is hogtied and can barely move. JJ leaves her there and leaves her there to meet her hubby and show him the photos of his bound mistress…
members right click here to download this mp4 or left click to stream
run time 27 minutes
Safa Warda came to shoot 3 clips with me around 2012 and then never again, until now! She first mentions her love for pantyhose so I thought it was necessary to do a pantyhose encasement on her. She undresses from her street clothes and gets into some seamed pantyhose before I come in and make her a matching top and help her get ballgagged. She stands and gets more rope and nipple clamps over the nylon material. She sits in the chair and gets tight arm ropes and a gag change to leopard panties and clearish vinyl tape. Now she struggles on the floor before a simple hogtie for a bit before I return with a stocking cap and tighten up the hogtie. Now she is like a cute little deer in headlights, wide eyed through the nylon hood and relatively still. She does allow me to push her over for that view even though she could not do it herself. Footage at the end of the gag coming out and her ropey dopey self. I didn't know she hadn't done tight bondage in ages…..but she got through it beautifully 🙂
members right click here to download this mp4 or left click to stream
full clip, run time over 30 minutes
members right click here to download this mp4 or left click to stream
chair only
members right click here to download this mp4 or left click to stream
stuffing gag on raven through hogtie struggling, coming soon
 Raven has captured JJ and when the scene begins she is already strapped into the restraint chair with an enormous ballgag in her mouth. Raven appears and moves the chair around and threatens the woman and disappears. Some time later we see JJ getting one of her feet out of the restraints and then it fades into days later with Raven captured and in a strappado helpless. She writhes around as the one time damsel turned captor comes up and swats her beautiful ass, makes threats and gets her tied up even more, removing her skirt from her body and using it around her neck to make threats. Now Raven's mouth is stuffed and she is tightly gagged before getting to the floor and finally being hogtied and left there.
This was a custom video, interested? jj at bontobebound.com
members right click here to download this mp4 or left click to stream
hour and ten minutes
members right click here to download this mp4 or left click to stream
set up, gags and struggling only 42 minutes! (lots of struggling)
JJ has a formula and a bad man wants it. He comes in to get it from her. She tries to convince him that its locked down and she only has a partial security code but he is not buying it one little bit. He gets her to the chair and ties her up threatening her with a weapon. She is ballgagged to begin with and then her mouth is stuffed and her face taped up. He leaves and she tries to get to his weapon, he comes in and punishes her for that. Eventually she is hogtied, he removes her gag to give her a chance to fess up but she doesn't so he plugs her mouth back up again and hogties her even tighter…