Posts Tagged 'outdoor bondage'
Not a member here and want to own this clip buy it from me at clips4sale and I'll get 100% commission this month
members right click here to download this mp4 or left click to stream
15 minutes and 15 seconds
This lovely free spirited all natural girl (Muriel)  from Berlin has men just eating out of the palm of her hand! Listen to her purr and see why. She is not into high heels and tight skirts so there is none of that here. She is in girdle panties and pantyhose while topless. She loves shibari and performance art but my gags and strict arm ties she really doesn't care for at all. She is a good sport and does it with a smile even!
Want to own this clip and not a member here? Purchase it from my clips4sale studio this month by clicking below and I'll get 100% of the money instead of the usual 60% which is Covid relief for us from the owner there 🙂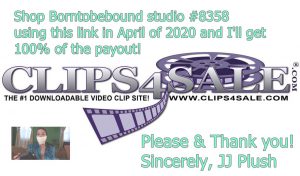 members right click here to download this mp4 or left click to stream
full clip, run time 25 minutes and 58 seconds
members right click here to download this mp4 or left click to stream
walking, chest pulled down & hogtie run time  13 minutes and 45 seconds
Beautifully built and tall Katarina Blade  from the Czech Republic walks effortlessly in 7″ platform heels through an olive grove to a platform where I tie her up. First she wears a small ballgag and then a larger one. Her nipples are clamped and her chest is tied down to her knees. Ready to be rid of that big red ball I put big pink panties in her mouth and wrap her head with an entire roll of vetwrap. Then it is time to hogtie her. I was just going to leave her free to roll around but she isn't much of a mover in bondage so I tie her off over head and tie her stocking clad toes. Lastly she gets a blindfold (from hottbonds.com). She eventually says JJ, OK signaling that she is done but she lets me tape for another 1.5 minutes before starting to untie her.
This clip was made possible by the good man at supertightbondage
members right click here to download this mp4 or left click to stream
run time 24 minutes
The Ms Rachel Adams is nude and  led to a post in the beautiful Spanish country side and secured to it with saran wrap, black tape and duct tape. She gets a ballgag, nipple clamps and then later a tube for breathing. It got hot fast and she was not left in the final situation for any amount of time. Sigh….No cuts, video work by supertightbondage, not really any full body shots in the finished encasement. This  clip is also available there soon if it is not already and Rachel will also  be posting it to her clips4sale store Rachel Adams Fantasies soon if you are not a member here, though you should be because it is a really great deal 🙂
members right click here to download this mp4 or left click to stream
run time not even 7 minutes
A woman tries to escape the Spanish villa she has been taken to. Her elbows and wrists are bound and she is wearing an enormous ballgag. She moves quickly in her strappy 5″ heels but just can not escape the compound. She is met by her captor (Andreas) who drags her back inside and hogties her very tightly. He removes her enormous ballgag and wraps her face up tightly with black wrap and then adds a rope over that. He pulls her boobs out from her dress and gets up. Her eyes feel like they are going to burst out of her skull. She no longer resembles the woman she was just a few hours ago… The man backs out of the room and leaves her there alone. There will be no getting up and trying to run away this time…
Andreas runs supertightbondage.com. See more of his stuff there!
members right click here to download this mp4 or left click to stream
run time over 29 minutes
 Adorable Diamondly is being held by an older woman that likes her too much. She is simply hogtied and ballgagged outside and the nimble little cutie unties the hogtie rope, stands up in 8 " heels removes them, gets her ankles out and starts running down the driveway. She thinks she will get to experience the free world again but she is met by her captor and escorted into a dungeon, before going in she gets her heels back on. She gets a strappado, crotch rope, and clamps over her bodysuit. She gets spankings and then gets a pair of leopard panties stuffed in her mouth and microfoam around her head. She is balltied for a bit before being hogtied and left for the night. The adorable teen makes such lovely noises, there is no way that women will ever let her go.
Members: Right Click Here and Save File to download or left click to stream
run time 15 minutes
Not a member here and want to own this clip buy it on her clip4sale store, Rachel Adams fetishes
Rachel Adams came to spend the night on a lovely evening and I decided to take some photos of her on the dock just for her in the outfit she arrived in but then I got ballsy and gave her cuffs since none of my neighbors were out and we were in regular attire. She wanders the beaten up dock cuffed and then hogcuffs herself before undoing it and walking the yard still cuffed. Then she heads inside to the sun porch and removes everything.
members right click here to download this mp4 or left click to stream
run time 24 minutes
Busty leggy Cassandra is on a leash with a small ballgag negotiating a rocky Nevada backyward in platform heels and taken to a chair where she is tied until it is time to bring her inside where she gets tied over a bench and then into a miserable boxtie hogtie. Her mouth is stuffed with a bandana, vetwrap used for a cleave making her drool before more layers of tape go on. Her toes are tied over her very sheer stockings and she mmmphs about in that hogtie wondering what will come next as night time fast approaches.
members right click here to download this mp4 or left click to stream
full clip, run time almost 31 minutes
members right click here to download this mp4 or left click to stream
outdoor section, over 13 minutes
members right click here to download this mp4 or left click to stream
handcuffed section, 17 minutes
A package thief has been stealing off of porches this holiday season and JJ is desperate to catch the person. The pretty girl saunters up the porch steps in leggings, boots and a furry jacket and grabs the box labeled shoes. JJ is waiting for her and pushes her under the porch to punish her. Her elbows are bound and her mouth is packed full and wrapped tightly. She wriggles about on the cold wet ground before being put into a really tight hogtie balancing on her hip bones, her mouth is wrapped even more tightly. She moans there for a bit before her punisher decides to take her in to a make shift jailcell in the homes basement…. There she gets a spider bag, heavy german cuffs and nipple clamps and her pants are pulled down. Next the womans male friend appears to take over and he tightly hogcuffs her jamming that metal gag back tightly into her teeth and putting even nastier nipple clamps on her. Eventually the woman reappears and puts a ballgag in her mouth but does not let her go.
The camera was on a lousy setting for part 1 but it was so bright outside it wasn't noticed at first, color correcting is not on my list of skills, however it was so blown out on the card you could not see faces at all so this is significantly better….part 2 the problem was noticed and corrected so I separated that out for those of you that don't want to bother with the blown out clip.
Frank/ I love rope bondage arranged this shoot out for me as a gift. These humans donated time to me this day because of what I am going through in life. Thanks to all of them, I'm tearing up now just thinking about it.
members right click here to download this mp4 or left click to stream
poorly colored selection, run time over 7 minutes
members right click here to download this mp4 or left click to stream
regular colored selection, run time 16 minutes
Blondies Dakkota and Adara have been captured and tied up and ballgagged. They struggle in the grass among the mosquitoes on a wonderous rainy yet sunny hot summer day. They are soon joined by another lovely Je C, brought in by Cinched. She is tied up on the grass with the other 2 and left to squirm for a while.
Next clip: The women are in a sunny pasture and already very well gagged with stuffing and lots of duct tape. Je C tries to make a run for it but is caught. The 3 are bound together in a web or rope and mmmpphh helplessly baking in the hot Michigan sun being attacked by bugs until their captors Cinchesd and JJ Plush return to help them up and take them away….
Many thanks to I Love Rope Bondage/Frank for organizing this shoot for me. Many of you know my husband and I are separating and there is a lot of very, very bad (for me) that goes along with it.  Plus such generosity from everyone that drove to the middle of nowhere and donated their precious time to me on their day off on that buggy muggy day. I am so grateful!!  I'll be sending copies of the clip to everyone involved tomorrow.
Frank, Je C, T, Dakkota, Adara, Cinched and Secured (who filmed this clip) and Fenrex who donated the space for us
and yes the ladies were really going for a drive in the trunk and using a phone to film themselves
members right click here to download this mp4 or left click to stream
full clip, run time 33 minutes and 45 seconds
A car backs into a long driveway and two men emerge. They are transporting 3 bound and gagged women in the trunk (Je C, Dakkota & Adara Jordin). One of them has her phone on and she is making a video of them all yelling for help. The men pop the trunk and a woman appears to peer in, she plucks the phone from blonde making sure she hasn't placed any calls or texts.  Then one by one all 3 women are pulled out of the trunk and placed into a wagon for further humiliation and then taken to the garage. The crew decides to take the women to the sweltering attic stuffed full with bdsm torture devices. The scene opens with all of the woman caged, of the the female captor ties a piece of each of their hair to the top of the cage just to make them all even more uncomfortable. They are pulled out and all tied standing and hunched over, two of them nipple clamped and miserable. The three still have a lot of fight in them up their in the 105F room so the bad guys decide to get them hogtied on the floor. Each of them get their mouths stuffed and heads wrapped, blondie that was caught with the phone gets her panties cut off and her shaved puss is exposed, sweaty panties stuffed into her mouth stuffed. Her tan bare skin glistening in the heat while the other two endure the hellish heat hogtied in their pantyhose. The crew takes off for a break, but what will happen to the helpless women??