Archive for the 'My Journal' Category
Journal Update
Hello all.
Last Thursday my realtor told me not to rush to empty out my condo because this man decided he wanted to do a private inspection which would be scheduled after today and the closing would be set later. I woke up from a message saying that he changed his mind and wants to close the 16th still. So this weekend I didn't move anything out. This weekend it also snowed a TON. Now Tony and I get to stop everything we are doing and empty out a 2200 sq ft condo with basement and two car garage. There aren't too many large pieces of furniture left and many will be donated but the basement, garage and kitchen are loaded. I almost told the lady to go screw herself but I am so tired of barely making it living paycheck to paycheck with an extra property, especially with the holidays coming. It is REALLY stressful so I feel backed into a corner. I want this cash deal to go through but I am absolutely seething. Seething. I negotiated for a bit more than he wanted to pay. There was a lot of back and forth and I wasn't budging because I'm not going to have a fire sale just because I'm paycheck to paycheck. I was making it work, but anyway I feel like he just wanted to screw with me- make me hussle because he didn't get his way. When he went through the place it definitely seemed like we were living there.  Sahrye and her significant other were staying there so there were wet towels hanging up and the smell of human life and not just a closed up space staged for sale. Plus my closet was bursting at the seams with model wardrobe since I shot there all summer because the bank was in such bad shape.  I get the feeling this guy is smiling over inconveniencing me so badly-
In the end it will be great to get rid of the expense and to make my new house a home.
I have not answered emails about customs. I will be ready to do them after this nightmare week- and I'll write everyone back when I can.  I haven't done any math but hopefully I'll have some cash to fix some things back up at the bank (studio) and get to sessioning and to buy the makeup that I'm out of that makes me pretty and to have the ability to hire a makeup artist again from time to time. Anyway thanks for your support…..
My magical concoction of supplements, actually sleeping, ridiculous amounts of water and removing the foods and humans that were poisoning me has drastically improved my quality of life (and the lives of those that are dear to me). Hopefully I can work on my looks again soon. I have not been permitted to do any cardio. Apparently it is the number one thing aside from stress that will throw people like me into another dangerous adrenal crash. I did ok moving all that office furniture in and out…..but this week will be a good indicator as to how my body and mind are really doing- so much stress, so much physical exercise packing and moving all that stuff and furniture. If I make it through this week on my feet I'd say I'm ready for some cardio and resistance training in moderation, not so intense like what I was doing a few years back when my health started to spiral out of control.
2017 is going to be my year, which like I've said before just means better content for you all-
Happy Monday…..
PS I want to do a clip or two with Eric Cain (futilestruggles) before he goes off to Florida for the winter SOON… Interested in a custom with us? He is all set up to shoot a few girls at my studio with his unique way of shooting with so many cameras. You can email him futilestruggles@yahoo.com since I'm not in my emails and he is. So I'm bendy for my size guys but I'm not into his type of beatings (for any amount of $) which is why I haven't shot with my BFF in years but that little taste with  Je C got me real interested!!!
I'm sorry about the late update. If your membership expired this weekend and you want the clip of Sahrye and I that you are entitled to please write to support@borntobebound.com with your old username and password and I'll get it to you within a couple days.
So the day I was supposed to do the bulk of the shooting with Sahrye didn't work out because my sister in law decided to have her baby a week early shortly after I announced that I would be in my emails looking for customs for her. I was supposed to be there, and I was- holding a leg and cutting the chord!!! Wow, what a beautiful life experience that was and she handled it with dignity and grace!! I'm not a mom and I'll never be a mom but that was absolutely incredible and now I have a perfect little niece. My brother is very conservative and very into modesty so it almost killed him having me there watching such an intimate moment because of his own hang ups, but she wanted me there and maybe just maybe it will make my brother who is very against the idea that I do what I do for a living and I a little bit closer. Only time will tell. So anyway Tony picked up the slack and shot Sahrye that day until I came back and then I shot the clip of her tying me for my dear friend Jochen that I just posted and boy I look haggard….long day, but I was feeling fine despite my looks!! Anyway Sahrye decided she could get a bit more work and stay a few more days. I'll be shooting her again Wednesday afternoon before she leaves and I will get into my emails and dig for some last minute customs. I keep saying that…I know. I know. I'm the worst.
I don't want to be up now, which is amazing but I needed to get you guys those late updates and I plugged a space heater in and it shut my computer down just as I was about to start exporting the Anna clip and it hadn't saved. GGGRRRRRR. Anyway I can catch up on sleep tomorrow if my body lets me which will be great
Yes, I need to login and manual add a few of you generous guys that sent me things, but I'm afraid now I'll really mess that up- the longer I wait the more content will be there and the more time I'll add- so it is not all bad.
In other news I just signed the papers accepting a cash offer on my condo tonight!!!! They want to close the 16th of this month and they want the keys then and I agreed to that so WOW, I have a lot more packing and moving to do FAST! It was staged for sale and I left so much that I didn't use on a regular basis to make it look very lived in so there would be no low ball offers. So after this week there won't be anymore clips in the red room with the wood floors. I say goodbye to the place I started my bondage career at, the home I made on my own as a single woman. I have mixed emotions. I'm glad it sold with the potential hazards from being built on a brownfield and it will be sooooo magical not paying bills there and getting some cash for the rest of the kitchen here and a real bathroom, not just a pool shower in the utility room, lol, but that place was mine all mine and very affordable and easy to manage. Tony (gotcuffs) and I were married over a year ago but it is really just now that I feel officially married- the bank and this home is ours together- not just one of ours, that is a new feeling for sure. Most women probably don't think of combined property making them feel more married than that marriage certificate, but I'm not most women.  Good thing we like each other, lol.
This year is coming to an end, and boy am I ready for it to end. I'm thinking 2017 will be incredible for me- so many heavy weights are being lifted from my shoulders right now- most importantly getting my health back- or I mean better than it has ever been in my adult life. Knowledge is power- for me anyway….
Night night, JJ
Hi everyone,
I never got to emails and I'm sure there are those of you wanting a Sahrye clip. We will now be shooting all evening on the 1st and she is really looking forward to customs and like I said I haven't gotten to the emails…
So I'm super duper wiped out. My body does not want to be awake now (which is a good thing) but I really wanted to get you a clip posted and of course my internet is crawling….
I for sure will be in my emails a bunch tomorrow (today now) mostly handling the Sahrye (above)  custom requests and adding anyone to the site that sent gifts or joined by way of amazon- Really, truly.  Also Amanda Marie was here earlier if anyone missed out on a custom with her because I wasn't in my emails the good news for me is she moved back to Ohio and she would like to shoot frequently so she will be back soon and you will get your chance.

Good news I'm doing well, my brain is working better and we made some improvement on the bank (studio) basement soooo I'm almost ready to session again!!
AND….Eric  Cain was over when I was shooting Je C and he tied us both up for a damsel clip. It was just (his version) of a damsel clip and not a long drawn out torture clip but I got through it without any problems. He hasn't tied me or Je C in AGES, now I think I've gotta shoot with him again before he goes to Florida for winter. I'm up for the challenge. I think….
gotta get through shooting each day this week though and then take a shoot break though-
Night night everyone.
Thanks for your support, I really truly need it.
JJ
Oh and if you are into the girdles and stockings check out just fi gures dot com – quick cyber sale happening NOW, & yes they do have your size 😉
Hi everyone,
I think this is the absolute longest I have been away from emails and social media in my entire life but the good news is I'm healing. It has been interesting living in the real world and not the online world. I didn't have to deal with my friends and family battling it out over Trump and Clinton. I haven't felt the pressure to buy anyhing or look a certain way. I haven't gotten annoyed or upset at anyone. I haven't experienced any major illness in a couple weeks now and I believe I am aware of the triggers that knock me on my ass. I am now waking up at the time I was falling asleep the last couple years!!! I wake up feeling rested and hungry instead of exhausted and sick to my stomach. I haven't felt the need to take my temp in a few weeks but I know it is way up- no more brain freezes, freezing or falling asleep limbs or serious skin disorders. I am having a cup of coffee maybe twice a week instead of several times daily. I haven't needed anything for sleep or anxiety and I have a positive outlook. The best part is I never had my lady parts removed and I'm not on any prescription medication. I am in awe of the body and minds ability to heal given the right tools. Anyway, I'm on the upswing and loving it and hope to ease back into social media and other things that I'm slightly afraid will knock me off track. I've been doing absolutely everything possible to be to sleep early and get work done early, but after so many years as a night owl, even before the real illness set in it has been a big adjustment. I'm probably the only one in Detroit thankful that it is getting dark so early because it is helping me feel tired at the appropriate time. I haven't felt as much (natural) energy in ages, perhaps never since childhood. My husband Tony can't believe the changes in me.
Plus I feel like the supermoon may have brought me some good luck after years of horrible misfortune, lol. 12K in kitchen cabinets for 4K that we won't be able to install until mid Dec and all new office furniture for my lingerie co for free from a family friend that retired and sold out. It took Tony and I 15 hours over the weekend to move the heavy stuff in and set it up but now that it is done I'm delighted.
So for those of you that recently sent gifts and are waiting on a password I'll be in emails Friday night and I'll make you all passwords and give you extra time. If you sent me emails ages ago and want to move to the front of the line please resend. Tony's parents just decided to come to town for Thanksgiving two days ago so we spent a good portion of the afternoon making our home very clean and very vanilla.
but Friday it is back to shooting with Riley Jane
The 26th is Tonys bday!
The 28th Je C is back!
The 29th I'm shooting Amanda Marie – Amanda is available for bondage customs
The 30th I'm shooting Sahrye – yes she rescheduled!! Want a custom???? Hopefully I can add another evening in during her stay.
Nov 2 the college cutie Anna
jj at borntobebound.com
Journal update
I told a tall tale, I didn't get to my emails here this weekend. I worked on my home and socialized which was magical. We went to www.thedamnedshow.com Saturday night last minute since I never know how I'll feel and much to my delight I ran into a lot of people I like and miss that I didn't know would be there since I haven't been frequenting social media. I disappeared from my personal social media accounts ages and ages ago as I felt more and more off- maybe two years and I disappeared from the things happening in town quietly. It is only you guys that hear me whine and complain and get the heads up. I think it is just easier to ramble into cyberspace than to bitch to people in real life because everyone has problems, no one likes to hear people complain and maybe I'm a little afraid of being disappointed in how people react…I don't know, it is complicated. I've seen a lot of people I know seek out support and help on their facebook account. I did the opposite and disappeared from everyone. Aside from finding it easier to ramble into cyberspace than to talk to people that know me in the flesh I think it is important to post things here because sometimes the updates are late or I'm obviously really off in the videos. You do spend your hard earned money here so I feel like I should explain myself- If I don't make people promises I can't keep I don't need to try to explain myself which makes life so much easier but perhaps more lonely.  I hate letting people down.
I woke up Sunday feeling pretty good so then we went to a burlesque show at a beautifully restored place Cliff Bells. My friend Cherry Busom who goes by Lushes LaMoan to dance and has appeared on this site a few times over the years organized it and danced.  I wanted to see her and many others. I'll see if I can upload the little cellphone videos I made for you Burly Q fans… God I wish I had the balls to do burlesque.
I really love the October Detroit events and it was good to get out after a week of feeling very, very off. I didn't stay out late or overdo it and I didn't fall to pieces today! I'm coming to understand what my body needs to heal and function properly with lots of little trial and errors. I still haven't done the bloodwork that awaits.
Halloween we went to work on the bank (studio) again. I haven't shot there since spring….the last basement flood really got to me emotionally, but it is much cooler in there now and easier for me to work there- plus time heals all wounds I guess and my immune system is stronger. It is still very sad down there and I know many of you want to come session, but I'm not comfortable with strangers visiting there just yet. Trust me I'm getting stronger, feeling more clear headed and I could reallllllly use the session funds to fix the place back up but like I said I'm just not comfortable enough with strangers there- yet…. I'll post a couple photos from tonight when I can, it is a bummer…
I suppose I could session on the main floor with the lingerie co but it just feels wrong….maybe I need to get over that feeling.
On a brighter note I'm shooting there for the first time in ages later today the 1st and I'm shooting there the 2nd as well.
I'll be doing the solo customs people are waiting for tonight too!!
Oh and Adara Jordin will be back the 12th if you'd like a custom-
JJ
Journal Update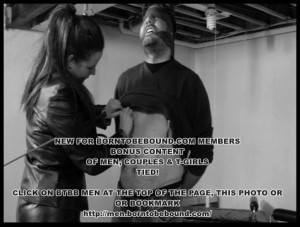 Hello all.
More than anything else I get emails from people asking if I have any clips with men in bondage or crossdressers/ t-girls in bondage or couples in bondage. At one time I had intended on making an entirely new site dedicated to those things but life got in the way. However because of all of the emails inquiring I've decided to put what little content I do have up here on borntobebound as I find it. I understand that many of you guys that are fully dominant find that kind of material to be boner killers so to prevent you from having to see it on the main page Tony added a BTBB men category. You can click on it if you want to check it out!  Please understand that I'm not promising new clips in that area on a regular basis or anything of the sort. I just thought it would be a nice gesture to provide those clips at no additional charge to those of you that are members here and interested. I know there are a lot of you-
On another note, Sahrye was a regular and fan favorite here for a while but I haven't seen her since spring of 2015 I don't think!!!  She plans to be here the 25th of this month (last minute planning) and she is anxious for some custom video work! I should actually have time spread out with her over two evenings which gives me time to do bondage customs with her and of course Tony can be in the clips as well. For you gotcuffs.com fans she will be shooting 5 hours with Tony for that site. For those of you that don't know Sahrye is a good little actress with a niiice body and pretty expressive face and she can tolerate tight ties and mean gags. She also knows how to tie/ top so if you'd like a bondage custom with her please read the info on my customs at the top of this page and send me an email with the relevant information. I can not give you a price until I know what you want to see….
other custom opportunities with:
October 21 Adara Jordin
October 25/26 Sahrye
very soon local newbie Dominica returns
November 2nd Rachel Adams
before the end of the year Sarah Brooke will return
before the end of the year Vicious Vamp will return
I also have 3 excited local(ish) new girls that LIKE bondage lined up within the next month and there will probably be some other girls in there as well, hopefully Riley Jane & Simone. I just have to get through this month-
If you don't know what those ladies look like but think you might be interested in a custom you can type their names in over on the right hand side
That is it for now…..
Journal Update
Well we had bad storms in Detroit the other day and guess what happened- the bank basement flooded and left lots of sludge behind. Luckily the floor is now just cement and much of the furniture has been relocated to our new home even though we are keeping the bank/ studio. Sadly it still takes tons of time and energy to clean out and plenty was ruined. The sewers were just overwhelmed. It happened to everyone in the neighborhood…This is just going to be a thing I guess unless we install some $25,000+ backflow system which is not guaranteed at all. The foundation and brick work we had done held but the city sewers did not. It is after 2am and Tony is over there now working on it but I just can't. This is the first time I haven't helped with a clean up there…
I lost it when I saw what had happened, sobbed like a baby but I bounced back. We were busy at the condo getting it ready for the realtor to come list it the following day. We assumed the bank basement would flood since the streets were flooded near our home but there was nothing we could do so we didn't go look that night we just carried on working…
Everything is out of the condo for the staging process but I need to fix a not to code dryer vent, put in flooring on the second floor which we keep meaning to do, fix some settling cracks on the third floor. That all needs to be done by Saturday (by us) for the first showing. Nothing got done this evening at the condo because of the bank basement issue AND Friday evening we are shooting Rose, aka Illustrious Rogue and the new girl Dominica again because I only shot that one clip of her. I need some variety in my ladies here I know. I know!! Good news for me at the new house the air conditioner is working and later today people come to clean out the vents so we won't be breathing in years of neglect and remodeling crap. The bathrooms were gutted so my shower situation is funny. I bought an outdoor pool shower, hung a shower curtain by a hula hoop and installed it in what was once a laundry room. Hey, it works…lol. On another note, related to the image below you all see Adara is here A LOT and of course she wants to shoot but I've done so much with her…..in order to help with that situation together she and I (and Tony) will do customs for super cheap, like modeling fee prices (within reason) so if a custom with her interests you write me jj at borntobebound.com and patience please….
On the health front that desiccated thyroid stuff I'm taking seems to be helping me A LOT and perhaps the low gluten and sugar. My core body temp is up to 97.1 from 96.4  still wayyyyyyyy too low but it is improving- so is my mood, lady issues, memory, energy level etc, etc… and all that we can ask in life is that we keep on improving. I also found a Netflix Documentary called Food Matters extremely helpful so if you are curious check it out.
Night night everyone and thanks for your support 🙂
Sincerely,
JJ
Hi everyone,
Caroline Pierce is in town for a week. We will shoot a couple days while she is here starting this Monday so if you'd like a custom please email me jj at borntobebound dot com. We will make custom clips that fit the site nice and cheap. Adara Jordin will also be in town during some of that time so if you'd like a two girl clip that can be arranged with them. Please give me as much information as possible in the first message about your custom- please, please, please. Then I can quote you a price. I don't do pay by minute like many others.
Well I am back in reality at home in Detroit after that major life break in lala land, I mean LA for Dixie's wedding of course! I was losing my mind and health before I left but I was nervous about leaving my responsibilities behind however I think stepping away from the situation here was actually just what the doctor ordered. I'm not really any healthier but I am in much better spirits which is a step in the right direction. Today I had that doctors appointment since my temperature averages out at 96.4 and you know a host of other issues and I haven't been to an actual doctor since Anthony and I first got together in 2011. Yeah, that is ridiculous I know. I am a self diagnoser and medicator and I've been correct about what was going wrong in me in the past but this was puzzling and not fixable in house so I had to be an adult and go to a professional. I'll have many more visits to make- making up for lost time I guess.
I also really fell back in love with being tied up while I was out in LA- not that I stopped enjoying it, the "job" aspect just changed things- however I'd say that sparkle in my eye is really back for it so I'm up for some challenges!
Anyway I haven't been in emails for a while but I'll be on the computer catching up a lot this weekend. If I owe you a message and you don't hear from me Saturday please resend your inquiry  ;).
I'll add some images from Dixie's wedding soon too 😉
Happy weekend, hope you all get to enjoy it-
JJ
Journal Update:
Hi everyone,
Earlier this week my in-laws decided they would come up this weekend for fathers day and offer us some help on the new house. Well, we all know that is a very kind gesture- driving 5 hrs each way on a weekend off to do hard labor but of course that sends me back into cleaning and hiding mode on top of running two companies and trying to get that house livable because having the bank property, my condo and this money pit house are absolutely shaving years off of my life with the amount of stress I'm under. I have zero dollars left in savings which is not comfortable at all for a high anxiety, safe living type of lady like me soooo if you've been browsing this site for years now and not becoming a member now would be the most awesome time to show support and JOIN. My goal is to have the condo staged and listed for sale at the end of next week, so it is going to be a hectic week. I am shooting a young, new local cutie pie on Monday though. We will see how she does!
Also the night of the 23rd I'll be shooting Adara if you'd like a custom with her or to webcam with us
The 30th I'll be shooting with Rachel if you'd like a custom with her
jj at borntobebound.com of course
AND
Happy Fathers Day to all you hard working dads out there!
Journal update
Hi everyone,
Sorry you got two updates in one day. I prefer to spread them out for you but sometimes that doesn't happen.
SOOOOO let me say thanks so much for all the birthday presents from my wishlist and your minds. I am officially 38 which is a bit different than several girls that started bondage around when I did, they seem to be forever 32. lol. I was overwhelmed with the thoughtfulness when I picked up my mail! It was an otherwise glum day but boy that was special. It was my biggest mail pick up in all of my years doing bondage and EVERYTHING will be put to great use!! That being said most likely Sunday if not Saturday night I will be writing you all and asking for your preferred username and password for your free membership for the month OR if you sent me something and you are reading this feel free to email me with your desired login info-  jj at borntobebound.com of course.  For those of you that are already members and don't want to quit the discounted re-bill cycle for one free month we can wait until a time when you cancel your membership and want to come back.
Oh and I've decided that I will take amazon giftcards for site memberships. You won't need to go to the post office for a money order and wait for ages if you are the type that doesn't like to use your credit card online….The amazon gift card number just gets sent to this email address. Easy! Just write me and tell me you sent the giftcard and tell me what username and password you would like. I'll add that to the join area soon.
60 days  $45 amazon card
30 days $ 30 amazon card
Also I am going to LA next month for my Dixie Comets wedding. I was going to come right back because of everything that needs to be done here and the short summer BUT I'm already going to be out there and I won't be able to make it to Fetishcon in Tampa so I've decided to stay a few days.
I'll be looking to book sessions (references please) and to shoot hopefully new to me faces.
IF there is an LA model(s) that would fit my site that you'd like to see email me her name….I am out of the bondage loop or maybe we can entice her with a custom?
I barely get here to check these emails so I certainly haven't been browsing the web for the new (tough) cutie pies. Help me if you have 😉
Happy weekend to those of you that get to enjoy the down time!!!
Oh and Vivian Irene Pierce is back in Ohio and reached out to me recently. Many of you know her…now she doesn't do the mean gags or hard ties or nudity but she is a bondage fan favorite from long ago and I love her look and style and I've known her since BEFORE I started tying so I'd enjoy some fluffy bondage with her because well she is Vivian. Anyway if you would like a custom within her limits it would get her more motivated to come up and shoot I'm sure.
Thanks for the support-
JJ