Archive for the 'Pantyhose Encasement' Category
Bonus Update!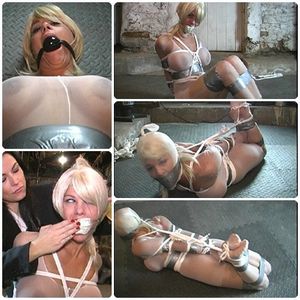 members right click here to download this file
run time over 14 minutes
Carissa Montgomery is wearing a pair of white shimmery pantyhose on bottom and one I've cut to make her a top out of. When the clip starts she has been duct taped tightly. I add a big ballgag to her mouth right as the clip starts. She struggles for us and then I begin to add white rope to her arms, cinching them to her body. Eventually I remove her ballgag and shove an enormous pair of white satin panties in her mouth. I wrap her head with clear plastic and the bad girl that she is she shoves a great deal of the wad of panties out of her mouth…which I didn't notice immediately but I fix that later adding a stocking hood and duct tape. I add more rope to her cinching her arms even more to her body and creating a crotch rope. She struggles before I add the stocking cap and tape and then hogtie her and soon pull her stocking cap back pulling her head back to her hogtie. She makes a beautiful package!! This was her  first encasement, and she's not used to having big gags in her mouth for so long, or her elbows tied for so long so it was a difficult clip for her. I had no idea, she did it with grace! Watch and enjoy.
FRIDAY UPDATE
members right click here to download this file
run time about 35 minutes
Sahrye sits on the sofa in nude pantyhose and nude pantyhose that I use as a top and 6 inch heels. I start to tie up her legs with very thin rope as I ask her a lot of questions about her experience with bondage. Then I shut her up with a silve colored ballgag before adding even more rope to her before swapping that gag out for a pink pair of socks and wrap her head tightly with microfoam tape. I have her scoot down to the floor and then I tie up her pantyhose encased hands with that thin rope, add a rope right under her beautiful booty and then put a stocking cap on her, add some electrical tape to that and then pull the cap back to her hogtie. I like the way it makes the gag look. She struggles for a bit…I do unwrap the gag on screen.
FRIDAY UPDATE
members right click here to download this file
run time 16 minutes and 30 seconds
Illustrious Rogue is the same girl I did the "Tightest Tie I Ever did one Someone" clip. She left town for a while and broke a few ribs, but she is back and ready for more bondage. I decided to do a pantyhose encasement on her. She sits on the bench in pantyhose and red leather straps. I ballgag her and let her struggle for a while before coming back over and wrapping her up with thick electrical tape. I have her get to her knees and I remove the big red ball and jam a pair of panties in her mouth and wrap her head with more electrical tape. I let her struggle some and come back and cut the boobs out of the pantyhose top and then put clothes pins on her boobs. I put a stocking cap over her head, remove the clothes pins and finally put her into a hogtaping- pulling back her stocking cap and running tape around her gag.
BONUS UPDATE!

Image set
Members click here to download this zip file
This is Illustrious Rogue encased in pantyhose, strapped up with red leather straps and tape up with electrical tape. Video update coming soon.
25 images
Bonus Update

Image Set
I actual enjoy taking photos. I don't have any formal training, and I don't study the photography trade magazines or photoshop instructions, just like with tying girls up I make stuff up as I go, lol…Here are some images of Dixie Comet in a nylon encasement.
Members click here to download the zip file
42 images
PHOTO UPDATE
29 images
Claire asked me to do a reverse prayer on her because she hadn't been put in one for a while and wanted a clip of it. At the time I had never put anyone into a reverse prayer and I knew I was only going to get one opportunity to do something  to her so I said how about a pantyhose encasement. I have some experience doing these! Here is an image set.
Members click here to view the online gallery
BONUS UPDATE!
Members right click here to download this file
Whitney saw a photo of someone that I had encased on twitter. She told me she'd never been encased before, so I had to make that happen! She gets encased, ballgagged and then struggles. Then she gets her mouth stuffed with a pair of panties, right vetrap and a stocking over her head. Then she gets hogtaped….it's not tight enough tho, so I redo it, pulling her hair back.  She's so flexible, curvy and loves bondage…just about the best candidate ever for an encasement!!
run time 27 minutes
Dakkota sits in a white bra, whitepanties and shimmery white stockings. She slips both legs into one leg of pantyhouse and then I help her into a pair that we make into a shirt. I have sit down and then I tape up her ankles, thighs and calves with leopard print duct tape. I ask her about her first bondage shoot, and then tape up her upper body with more leopard tape and then I go back and add more electrical tape and add a white ballgag, which barely fits between her teeth. Now the pretty lady struggles for us in the chair before I put a pair of panties in her mouth, put her hair up in a ponytail, wrap her head with clear tape and then with thick electrical tape. Then she gets to the floor and struggles in her encasement. She thought we were done when I decided to put a stocking cap over her head and cut a hole in the top to pull her hair thruand then add more electrical tape. The gag is now even tighter. The beautiful woman struggles on the floor for a while but then I can't help but cut her butt out of the pantyhose. The control top was just covering it up too much! Then I hogtape her, starting at her ankles and then pulling her up by her ponytail as she makes some adorably pitiful noises. She can't roll on her side so I roll her but she can't take it and I roll her back on her stomach. I ask her if it is tighter than the last hogtie that I did on her and she said yes….I know from experience that the hogtaping from the mouth around the ankles is pretty hard to deal with, but she did really well! I cut her hands free and let her pull off her stocking cap and pull her gag out.
run time 22 minutes and 45 seconds
Members right click here to download the full version of this clip
The clip below is a shorter version that starts when Dakkota gets on the floor
Members right click here to download a shorter version of this clip
run time 10 minutes
Members right click here to download the file
Click here for a free preview clip

Fayth sits on the tile floor and slides into one leg of a big pair of pantyhose, then I help her arms into the other leg and start to tape her up. We chat away….I tape her legs, tape her elbows together, use vetwrap on her upper body as well. She is gagged with a big red harness ballgag and struggles on the shiny floor for a bit before I put a stocking over her head and she gets to her stomach so I can hogtie her with pantyhose, using the Dring on the top of the gag to pull her head back. It looks great. She's nice and bendy. She rocks from side to side and the finally rolls over to her side and struggles to center herself again. I smack her on the butt a few times, slap her stockinged feet and then decide to release her from the hogtie and drag her into the shower turning it on. I turn it on and spray her with it. She yelps and says over and over again that she doesn't like me anymore. I tie the stocking on her head to the faucet and spray her some more and eventually take the stocking off of her head to see her runny makeup dripping down her face. I tell her I'll come back for her after dinner.
run time 23 minutes