WEDNESDAY UPDATE
members right click here to download this file
run time 31 minutes and 50 seconds
Nyxon in a hottbonds skirt, sheer lace top and fetish boots puts a little ballgag in her mouth and then I tie her up. I add layers of clear tape over the gag and then a scarf. Hr  elbows have been pulled up high, her legs are tied and she is tied off to the chair in a rather uncomfortable position.  I take off the gag and put a huge pair of black panties in her mouth and wrap her head with microfoam tape. I untie her, but I film her standing up in those next to impossible boots and have her show us her hot little body and then have her make her way over to the bathroom to remove the gag.
FRIDAY UPDATE
members right click here to download this file
run time over 31 minutes
Nyxon thought she was going to be wearing leather and posing with motorcycles she didn't think that her agent was sending her off to be tied up by some twisted woman. Nyxon finds herself in a knee point strappado wearing a leather teddy with stockings, fully fashioned stockings, boots and a leather hood with a big red ballgag. She struggles around and then the woman adds a crotch rope and rope to her elbows. She untethers her from the door and takes her for a walk across the room where her gag is changed to an open mouth spider gag while she is being put into a reverse prayer tie, then a pair of panties and stretchy cleave applied but not before Nyxon protests and says she just wants to go home. She struggles but the photographer doesn't think the gag is good enough. She removes the cleave and replaces it with duct tape then lays her down on the couch and her legs are tied off to one end and her neck to the other. She can't move an inch. She just has to lay there and wait for the woman to untie her.
FRIDAY UPDATE
members right click here to download this file
run time 21 minutes and 30 seconds
Nyxon and Sahrye are on their way out to the bar for the night when Nyxon decides that she wants to take a detour to get a look at a house where she heard a woman held people captive in bondage. Sahrye thinks Nyxon is nuts and decides to stay in the car and text with her friends. Nyxon is soon grabbed from behind…then Sahrye is choked out. When the scene opens back up Nyxon is passed out on the floor and Sahrye is being escorted into the room with her wrists and ankles tied. The woman shoves her onto the floor with Nyxon and leaves. When Nyxon wakes up they realize her knees are tied but not her ankles so she gets up to leave but before she can make it very far the woman grabs her and brings her back into the room. She adds rope to Nyxon's ankles and then ties her neck down to keep her quiet. She ties her elbows and then gags her with panties and uses microfoam as cleave. The woman has not said a word the entire time, not matter what the girls say or do. They get their elbows ties and then they are tied back to back, later packing tape is added to their gags and they eventually tip over. The woman tapes their hands up and leaves them.
WEDNESDAY UPDATE
455pm Eastern Time, It downloaded and played smoothly on my end-

members right click here to download this file
run time almost 16 minutes
Dixie and JJ are bad at the two women that sold them a building. There are all sorts of problems with the place. They decide to teach them a lesson. They bring the women through the basement with their wrists tied showing them problems and then tether them to a bed post, stuffing their mouths with panties and wrapping ace bandage so tightly they can barely make a noise. They are released from the bed post and tied up in tight hogties on the floor. The woman in pink has her elbows smashed together and the lady in teal has tears in her eyes from the pain of the ace bandage. Their pretty bras and then boobs are exposed and they are left barely able to move anything on the floor. I
WEDNESDAY UPDATE
members right click here to download this file
run time over 34 minutes
Nyxon has been caught trespassing and is left as a gift for the corrupt security guard. She has been leg ironed and cuffed in front. When the guard enters she puts a 3 inch blue ball between the girls lips and then has her get up. She is leashed and then taken for a walk before being tied to the pole, still cuffed up. A rope is wrapped around her neck. After a bit the neck rope is removed and she is let out of the metal bondage on the top part of her body and her elbows and wrists were tied. The ballgag is finally removed and a pair of panties is stugged in her mouth and a nylon stocking used to keep it in. A crotch rope is added and she is walked over to another part of the basement where her arms are pulled out firmly behind her, a crotch rope is pulled out in front and then one ankle is tied up. Duct tape is wrapped around her gag and a rope is used to pull her head back. She is left struggling in her bright pink boots for a while before being let out of that position and set down into a chair. A pair of lacy panties is tied over her head and she is left tied to the chair.
MONDAY UPDATE
Happy New Years Eve 🙂
members right click here to download this file
run time 24 minutes and 30 seconds
Nyxon looking sexy in super shiny peavey hose, leather skirt, satin blouse and knee high boots finds herself ball gagged with a 3 inch ball (hottbonds.com) and being tied into a reverse prayer. She gets a crotch rope and her feet tethered and she escorted across the basement floor on her crotch leash. Tony & Riley are hard at work preparing the space to be refinished. They are paid well to ignore what goes on there…She gets tied to post, nipple clamped, walked back across the room and then she is helped into a cart. Her gag is removed and a giant clothes pin is clamped on her tongue.  She is taken for a ride around the room, as JJ runs in 6 inch heels, Nyxon just hopes the cart does not tip over. Once the ride is over she is helped out of the cart and tied to a bench, hunched over, still in the reverse prayer position. JJ has to leave to take care of some business…her helpers notice and come over to play with Nyxon.
WEDNESDAY UPDATE
members right click here to download this file
run time over 20 minutes
run timeNyxon is forced to hop across the room but two girls that aren't happy with her for sleeping with JJs man.Her wrists and ankles have been bound with zipties. She is told to hop in a circle while the two girls slap her around and poke at her. They add more zipties and smack her ass. JJ removes her scarf and puts it in Nyxons mouth and the two tighten two zipties around her pretty little head. They leave her to wriggle around for a while, but only add more zipties and then clothespins, vetwrap to her gag and a hogtie. Nyxon can only move her head, but they aren't done just yet- one more ziptie goes around her pretty little head, then she is left there waiting for someone to come and get her out.
WEDNESDAY UPDATE
members right click here to download this file
run time about a 1/2 hour
Ms Nyxon appears at my studio with some new goodies from hottbonds and I feel the need to put them to use. She is wearing a hottbonds skirt and brought a hottbonds stretchy leopard armbinder over. Her legs are tied up when the clip begins as well as her wrists. She gets a 3 inch hard pink ballgag with chin strap (also from hottbonds) slipped in between her teeth and then her wrists ropes are removed so I can slide on the armbinder. I start to wrap up her arms, which proves to be a little challenging for me as the rigger. Good thing she is a tough cookie because she got cinches in places that generally cause arms to go to sleep or throb fast and she stayed tied up for a while. I decide to give her jaw a break with a big pair of leopard print satin panties and clear tape. After a bit I add electrical tape to her stuffed mouth. She eventually moves to the floor and her knees are tied to her chest, then her ankles tied back and a piece of rope is braided into her hair, her head pulled back and it is tied off. She can barely move an inch…
MONDAY UPDATEThis is an old clip that I did with Steve Villa. IF you aren't a member of this site and was to purchase it you can find it on Girl Next Door www.clips4sale.com/3961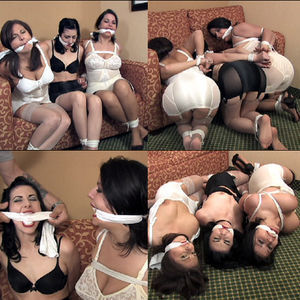 members right click here to download this file
run time around 11 minutes
A man has forced his way into their hotel room and now has Lola Lynn, JJ Plush and Nyxon all tied up in their bra's and girdles. The girls plead with him to let them go. Instead, one by one, he stuffs panties in their mouths and ties rags very tightly betwen their teeth to gag all 3 of them. The girls continue to struggle to get loose. They grunt and whimper through the gags as they try to communicate with each other. Then when the man sees them trying to reach each other's knots, he makes them lay face down on the floor so he can hogties them. Finally as an added humiliation, he pulls their bra's down to expose their boobs. The girls squeal loud as the man leaves them. They know it will be hours before someone will find them.
WEDNESDAY UPDATE
Members right click here to download this file
run time over 16 minutes
Miss Nyxon finds herself tied up and blindfolded in a cold dirty shed…She is struggling to get free and moaning thru her gag. Finally two people arrive and the man picks up the attorney and carries her into the house. They have been paid to prevent her from making it to court in the morning. Once inside he stands her up and makes her hop across the room to an ottoman. He takes her blindfold off. The woman fetches more rope and adds more to the pretty woman and then removes her gag. She had a huge fstuffed in her mouth and it is soon replaced by a big pair of pink satin panties and a pair of purple socks! Then the womans mouth is wrapped with tape and she is put into a hogtie. A bit later the woman is blindfolded again in hopes that she will settle down and go to sleep so the two can watch television in peace.