Posts Tagged 'rope suspension'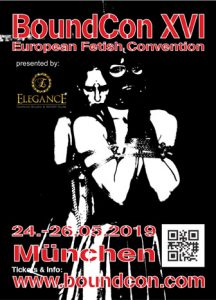 Come and see myself, Sasori, Minuit, Bettine (from this clip) and many of your longgggg time favorite bondage models and riggers at Boundcon in Munich Germany 5/24/2019 – 5/26/2019, plus the most incredible display of bondage gear and fetishwear for sale that I have ever seen under one roof! This is the BEST event and I am sooo happy to be attending the May event after a few year hiatus!  I will be there all day every day and in the hotel bar doing bondage at night I'm suuuuuure. Hugs come free, me tying you up at a price 😉

members right click here to download this mp4 or left click to stream
strappado & hogtie over 35 minutes
members right click here to download this mp4 or left click to stream
suspension over 25 minutes
Imagine my surprise when I walk into this room full of esteemed bondage folks and I was of the mindset that I would be the one tying one of these lovely ladies. My bad I didn't read the schedule well enough! Sometimes ignorance IS bliss because I would have been very nervous walking into this situation knowing what kind of a rigger Sasori is! I have not been put in many extreme ties in years and years and I haven't been touched by many strangers and my anxiety is not great. First many thanks to Bondage from overseas for recording this for me over to the side and out of the way of the people that were paying to take their own photos and videos and many thanks to the event coordinator for allowing me to post this here. The video focuses on me mostly and not the other lovely model Bettine. First I am put into a strict strappado with my mouth stuffed and head pulled back and then I am placed on top of a box. I HATE being tied on top of things and my breathing was labored due to where the thing was hitting me on the chest but I refrained from panicking, yay for me! When that came to an end I was already a bumbling idiot. Bondage is a real thing to me and it changes me headspace. It makes me high, which is why I was truly never a good damsel or model I just enjoy being tied up. So I thought it was time for a little after bondage nap after those ties but NOPE, more time left in this fan photo shoot so they get to work tying me up again in a strict chicken wing with a suspension which was truly just breaking my back ankle of all things… So now we are all done and I'm a bumbling idiot and need to pull myself together to somehow get back into top mode.
No cuts, filming straight through
BONUS CLIP!
Freshie wanted to try a challenging suspension and had only been suspended on one other occasion by Damon Pierce.
She did a beautiful job, this isn't easy….
Tony/gotcuffs/girlfriendbound tied her up.
I'm snapping photos in the back but I thought some of you might enjoy seeing this
members right click here to download this mp4 or left click to stream
run time just under 2 minutes