Posts Tagged 'Carissa Montgomery'
WEDNESDAY UPDATE
I think Carissa did a fabulous job topping me for the first time!!

members right click here to download this file
run time over 14 minutes
An incredibly sexy but insanely jealous Carissa Montgomery drags JJ across her back patio with her hand over her mouth. Her wrists have been tied and Carissa is livid. She is sure this woman is having an affair with her husband. JJ tries to reason with the jealous wife and explains that she is the jeweler and that her husband is about to surprise her with a big diamond. Carissa isn't buying it. She takes off a pair of pink lacy panties that she believes belongs to JJ and shoves them in her mouth. Then she wraps her head with packing tape to seal them in. Carissa ties up JJs elbows, manhandles her big boobs and makes her get to her knees. Finally she is hogtied and humiliated all disheveled on the back patio as Carissa berates the confused woman.  Suddenly a mans voice asks what is going on…Carissa proclaims that she has his lover all tied up. Apologetically the man tells her that JJ is a new jeweler at the shop they go to. Carissa half heartedly apologizes and stalks off while her husband tells the jeweler he will be right back with some scissors.
FRIDAY UPDATE
members right click here to download this file
run time over 22 minutes
Carissa Montgomery is waiting for a woman to come over that she met on Craigslist. She has always wanted to be tied up by a girl. When JJ gets there she helps Carissa finish gartering her stockings and then gets to work tying her up. After she has a bunch of rope on her JJ gets out a ballgag with 2 straps and straps them both into it so their lips are locked together. Then JJ puts a black and stainless ballgag in her mouth.  JJ adds a crotch rope and another rope to her arms then removes the ballgag and puts a pair of white satin panties in her mouth and wraps her head tightly with a cleave to keep them in. She hogties her on the big sofa and then robs the pretty woman and leaves her there. Eventually her roommate Dixie comes home and ungags her…
WEDNESDAY UPDATE

members right click here to download this file
run time 22 minutes
Dixie and JJ plan to rob this bar they are at. They don't even feel a little bad about it because the woman has been a total bitch to them.  When she comes back into the room she is grabbed and tied up. She is forced to her knees, they play with her big boobs and the darker haired girl pulls her panties and one of her thigh high stockings off. They shove the panties in and wrap her head tightly with the nyloxon. They give her a crotch rope, her arms are pulled close together and they leave her struggling while they do their business. They aren't done with her yet tho- They put her into a tight hogtie and then put the womans other stocking over her head and pull it back. In misery the blond can't do much but wriggle and moan. Finally someone arrives to help her, removing her stocking cap and gag and then going to call the police.
MONDAY UPDATE
members right click here to download this file
run time 10 minutes and 55 seconds
Carissa thought her feet were going to ache after her first day working in high heeled boots at her new job but she never thought she would find herself in a storage room ballgagged, ziptied and tied to a chair on her first day of work as a bartender. She struggles to get free from the chair and makes her way out of the room. She wanders around the bar trying to make her way out, her elbows bound zipties. The woman that did this to her finds her and makes her sit on a couch, adding more zipties to her legs, cuts her white lace panties off and shoves them in her mouth and then wraps her head tightly with microfoam. Her arms h ave been cinched to her body with more zipties and she is in utter misery. She continues to struggle and the woman leaves her there. After some time a man comes in and says that JJ must have gotten a hold of her, he does this to all of the new girls. He runs off to find a pair of scissors to cut her out.
FRIDAY UPDATE
members right click here to download this file
run time 20 minutes
Poor Carissa Montgomery is in trouble again. She has been tied to a bench and she is ballgagged. Her female captor comes in and pulls her chest down to the bench making her more uncomfortable and then returns and cuts off her little panties and stuffs them in her mouth wrapping her head to keep them in. She gropes her big boobs and makes her get to the floor where she is tightly hogtied and manhandled more.
FRIDAY UPDATE
another video in the Kinky Couple Series

members right click here to download this file
run time 17 minutes and 40 seconds
The kinky couple- Dixie Comet & Tony pull their truck into the garage. They open up the back and a tied and gagged beautiful blond girl is in the back. They sit her up, untie her feet and walk her into their home. They take her to the basement. JJ has been down there for some time and can't believe they have captured yet another woman. They begin to tie her up. They pull out the blond duos big boobs and stuff JJ's mouth with a big pair of panties. They wrap her head tightly with duct tape while Carissa watches. They unwind the pair of panties that are being used as a cleave from Carissa's mouth and put a pink sock in it, then wrap tape around her head. The women struggle on the cold floor until the couple decides to hogtie them both and make them kiss through their gags. They leave them there to think about their next move.
Bonus Update!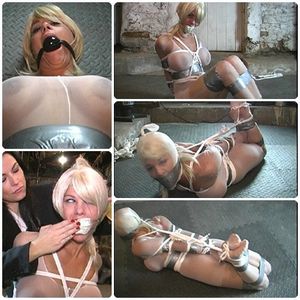 members right click here to download this file
run time over 14 minutes
Carissa Montgomery is wearing a pair of white shimmery pantyhose on bottom and one I've cut to make her a top out of. When the clip starts she has been duct taped tightly. I add a big ballgag to her mouth right as the clip starts. She struggles for us and then I begin to add white rope to her arms, cinching them to her body. Eventually I remove her ballgag and shove an enormous pair of white satin panties in her mouth. I wrap her head with clear plastic and the bad girl that she is she shoves a great deal of the wad of panties out of her mouth…which I didn't notice immediately but I fix that later adding a stocking hood and duct tape. I add more rope to her cinching her arms even more to her body and creating a crotch rope. She struggles before I add the stocking cap and tape and then hogtie her and soon pull her stocking cap back pulling her head back to her hogtie. She makes a beautiful package!! This was her  first encasement, and she's not used to having big gags in her mouth for so long, or her elbows tied for so long so it was a difficult clip for her. I had no idea, she did it with grace! Watch and enjoy.
WEDNESDAY UPDATE
Happy Halloween Everyone!
members right click here to download this file
run time 23 minutes

Carissa Montgomery went out to the bar and had a few too many. A seemingly nice girl offers to take her home. The offer seemed sincere enough, but she wakes up on her knees tied with her hands overhead in the girls back yard. Her mouth is stuffed with socks and there is bandaging wrapped around her head as a gag. She can't get away from the tree. The crazed girl approaches her asking if she likes her outfit which she tried to copy off of Carissa. She tells her she shouldn't trust anyone at bars including women and adds a tight crotch rope and ties her ankles up the tree as well. She tells the blond beauty that she will be back for her later. True to her word the girl comes back and unties her from the tree and unties her ankles. She uses the crotch rope as a leash and has Carissa walk across the lawn over to a patch of cement where she is told to sit. The girls ties her elbows and adds rope to her lower body. She cuts open her snug turtleneck and puts clothespins on her nipples. She puts her into a balltie making it so she can really only move her hands and feet, and leaves her there.
BONUS UPDATE
I know it should say Monday update but I don't have a new clip to post that is not a custom video. I don't want to post customs as regular updates since they are customized to a specific persons taste so  Monday evening/ Tuesday am I will post a brand new non-custom video as the official update.
Members right click here to download part 1
The first row of images: approximately 9 minutes, In part 1 JJ & Carissa struggle on the sofa tied up & gagged with an over the mouth gag.  Halfway thru their blouses are pulled down.
Members right click here to download part 2
The second row of images: approximately 8 minutes and 30 seconds, JJ & Carissa are now struggling with their tops pulled down and are ball gagged.
Members right click here to download part 3
The third row of images: approximately 14 minutes and 3o seconds , JJ & Carissa are now in lingerie and struggling on the floor. Halfway thru the bad guy returns and hogties them and swaps the 2 inch ballgag out for a 3 inch ballgag.
BONUS UPDATE
Members right click here to download this file
Click here for  free preview video!
She
just wanted to make a few bucks and had no idea what she was getting herself into. When she shows up at the warehouse she is forced to play JJ's little game. JJ wraps transport chains around the pretty girls waist and cuffs her hands, she runs that chain down to leg irons and shackles her legs. She walks her over to a little caged area where she puts a harness gag on the woman, and leaves her in the cage while she goes to get organized. When she returns she has some clover clamps which she attaches to
nipples. She moans in misery as JJ leads her across the warehouse by the nipples, her legs still shackled. She's told to sit on a chair and the clamps come off, but a pair of panties gets shoved in her little mouth and microfoam tape wrapped tightly around her head. She sits there terrified as JJ ties up her legs, and then removes her handcuffs and ties up her arms. Then a layer of duct tape is wrapped around her gag. She is told to stand up and she's put into a strappado position, while the creepy security guard runs her hands along her body and even sucks on her nipples. JJ eventually tires her captive in that position and makes her get to the floor so she can be put in a hogtie. Once she's hogtied JJ decides to add another rope pulling her up a little and connecting her to the wall, and then she finally wraps duct tape around her gag and to her feet making the hogtie more strict. JJ leaves
carissa
there for the next guard to find her….
run time over 38 minutes