Archive for the 'Carissa Montgomery' Category
members right click here to download this mp4 or left click to stream
run time almost 14 minutes
This is a bonus clip. I'm not sure if it was ever posted here…..shot circa 2010 before I started this site Jim Hunter does his thing to Carissa Montgomery and I, perhaps the first day Carissa and I ever met!!
Not a member here and interested in the clip it can be found on my archive clips4sale store 79717
This was a custom clip for Carissa Montgomery-
members right click here to download this mp4 or left click to stream 
run time 35 minutes
members right click here to download this mp4 or left click to stream  – no strappon scene
run time 30 minutes
members right click here to download this mp4 or left click to stream  – tape only
A hot blonde cop (Carissa Montgomery) decides to follow a lead on the missing college girl Simone. She doesn't call for back up and she is technically off duty, which was known by the phone conversation she was having with her husband. Just before she turns to leave she spots the sweater dress Simone was last seen wearing. When she goes to grab it she is grabbed by the pony girl trainer and knocked out. When she comes to she is told to strip down and stuff her mouth with her own little pink panties. She is handed thick black electrical tape to gag herself. She is completely helpless now because her gun has been taken by the pony girl trainer and is now being pointed at her. She is taped up while the trainer prepares some things for her and sends her photos off. It seems that she is even of more value being a cop! She struggles and tries to use her feet to get to the scissors that are within her reach but she just can't get to them….The woman returns and knocks her back out. The scene cuts to the pretty cop spread eagle in leather. She has been blindfolded and bit gagged. After some time struggling the trainer comes in and takes the blindfold off of her. She smacks her and flicks her nipples with the crop.  The next scene cuts to her tethered to the wall in leather bondage for a bit. Then she is released from the wall and while still leased up she is told to march with her legs up and then she is told to trot making her huge boobs bounce. The next scene cuts to he ballgagged and leaning over the table. She is banged from behind with a big strappon. Then she has to sit on it reverse cowboy. Now that she has been used up pretty well the scene cuts to her strapped up to a post, with a leather mask over her head, barefoot and waiting to see what will happen to her next.
members right click here to download this mp4 or left click to stream
run time 16 minutes
Carissa Montgomery is curious about her neighbors boat. She knows they are out partying so she goes on board. She can't help but go in their drawers. She chooses a tiny bikini to put on. She models it in the mirror and is caught off guard by the boats owner who grabs her and starts to tie her up. She finds the woman really sexy and makes out with her and pets her delicious body. She stuffs the bikini bottoms in her mouth and wraps clear tape around her head. She stands her up and gives her a crotch rope while she gropes her more. She puts her on the bed and hogties her and eventually leaves her there. The husband comes in and finds the hot busty blond there and starts to undo his pants….
2nd update of the week
members right click here to download this mp4 or left click to stream
run time almost 17 minutes
Carissa Montgomery sits on the back of her lovers boat in a bikini looking smoking hot. He tells her he is going to take the dinghy to short and get them some lunch. He doesn't know that his wife is hidden on the boat. She is pretty mad about the sexier woman he brought along. She goes on deck, grabs Carissa and starts to tie her up. The woman lies and says she didn't know he was married. That doesn't work. Once her wrists are tied she is taken to the cabin and tied up more. Her bikini bottoms are used as a cleave gag in he mouth for a while before they are stuffed in. She tries to spit them out but she can't, the strings dangle from her chin. She is hogtied and humiliated by the woman.
After the credits Carissa bitches about how those bottoms were too big for her mouth- she was NOT kidding, but she lived.  Also side note: Carissa is my friend and we wanted to go boating and we decided to do a couple trade clips out there earlier this summer. She IS a workaholic.  She isn't as into stockings and heels as I am and lets face it she looks great in a bikini but even aside from my terrible for video muumuu dress in the clip I just don't care for bare legged bondage. I guess it is a good thing that it isn't always 90 degrees here, lol.  I have no regrets being a heels and hosiery kind of lady- however it IS important to change it up- especially when the model is sharing content with me. Hope some of you enjoy the  lack of clothing and bare feet!
This was a custom video for Carissa, I hope many of you enjoy it!
members right click here to download this mp4 or left click to stream– full clip
over 30 minutes
members right click here to download this mp4 or left click to stream– NO strap on scene
Carissa Montgomery is a private investigator and heard that a woman has been abducting girls, training them as pony girls and selling them off to wealth men. She decided to do some investigating of her own. She is in the criminals home. She sees pony gear on the table and then looks at her laptop and sees an image of one of the missing girls in heavy bondage. As she picks up the phone to call for back up her pretty face is met with a smelly rag, she is soon out. When she comes to she is forced to strip and pose for some images to be sent off to potential buyers. Then she is told to remove her panties and stuff them in her mouth and tape it closed with many wraps around the head. She is all taped up on her soft bare skin and left to struggle while the woman goes off to find a buyer for the beautiful buxom blonde. When she returns she is put back to sleep.
The scene cuts to the detective in a leather body harness and boots. She has been tied spread eagle between two posts. She is groped, teased and taunted with a crop before her adventure continues. She is forced to walk leashed and ballgagged with good posture while strapped up back and forth throughout the basement. Then it is her turn for the strappon which the sexy blonde can' t help but enjoy, reverse cowboy on the steps, then from behind then missionary. She is denied an orgasm and left writhing around. Next she is shown on her knees strapped and roped up. Her mouth is stuffed with the smelly rag, her head wrapped with tape. She moans in despair not knowing what her fate will be- although the pony girl trainer has assured her that her new owner will be disgustingly large ad ugly….
MONDAY UPDATE
members right click here to download this file
run time 10 minutes and 55 seconds
Carissa thought her feet were going to ache after her first day working in high heeled boots at her new job but she never thought she would find herself in a storage room ballgagged, ziptied and tied to a chair on her first day of work as a bartender. She struggles to get free from the chair and makes her way out of the room. She wanders around the bar trying to make her way out, her elbows bound zipties. The woman that did this to her finds her and makes her sit on a couch, adding more zipties to her legs, cuts her white lace panties off and shoves them in her mouth and then wraps her head tightly with microfoam. Her arms h ave been cinched to her body with more zipties and she is in utter misery. She continues to struggle and the woman leaves her there. After some time a man comes in and says that JJ must have gotten a hold of her, he does this to all of the new girls. He runs off to find a pair of scissors to cut her out.
FRIDAY UPDATE
another video in the Kinky Couple Series

members right click here to download this file
run time 17 minutes and 40 seconds
The kinky couple- Dixie Comet & Tony pull their truck into the garage. They open up the back and a tied and gagged beautiful blond girl is in the back. They sit her up, untie her feet and walk her into their home. They take her to the basement. JJ has been down there for some time and can't believe they have captured yet another woman. They begin to tie her up. They pull out the blond duos big boobs and stuff JJ's mouth with a big pair of panties. They wrap her head tightly with duct tape while Carissa watches. They unwind the pair of panties that are being used as a cleave from Carissa's mouth and put a pink sock in it, then wrap tape around her head. The women struggle on the cold floor until the couple decides to hogtie them both and make them kiss through their gags. They leave them there to think about their next move.
Bonus Update!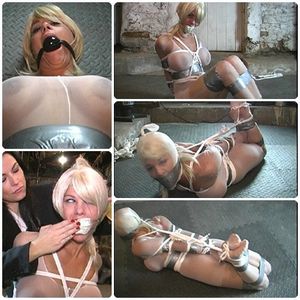 members right click here to download this file
run time over 14 minutes
Carissa Montgomery is wearing a pair of white shimmery pantyhose on bottom and one I've cut to make her a top out of. When the clip starts she has been duct taped tightly. I add a big ballgag to her mouth right as the clip starts. She struggles for us and then I begin to add white rope to her arms, cinching them to her body. Eventually I remove her ballgag and shove an enormous pair of white satin panties in her mouth. I wrap her head with clear plastic and the bad girl that she is she shoves a great deal of the wad of panties out of her mouth…which I didn't notice immediately but I fix that later adding a stocking hood and duct tape. I add more rope to her cinching her arms even more to her body and creating a crotch rope. She struggles before I add the stocking cap and tape and then hogtie her and soon pull her stocking cap back pulling her head back to her hogtie. She makes a beautiful package!! This was her  first encasement, and she's not used to having big gags in her mouth for so long, or her elbows tied for so long so it was a difficult clip for her. I had no idea, she did it with grace! Watch and enjoy.
WEDNESDAY UPDATE
Happy Halloween Everyone!
members right click here to download this file
run time 23 minutes

Carissa Montgomery went out to the bar and had a few too many. A seemingly nice girl offers to take her home. The offer seemed sincere enough, but she wakes up on her knees tied with her hands overhead in the girls back yard. Her mouth is stuffed with socks and there is bandaging wrapped around her head as a gag. She can't get away from the tree. The crazed girl approaches her asking if she likes her outfit which she tried to copy off of Carissa. She tells her she shouldn't trust anyone at bars including women and adds a tight crotch rope and ties her ankles up the tree as well. She tells the blond beauty that she will be back for her later. True to her word the girl comes back and unties her from the tree and unties her ankles. She uses the crotch rope as a leash and has Carissa walk across the lawn over to a patch of cement where she is told to sit. The girls ties her elbows and adds rope to her lower body. She cuts open her snug turtleneck and puts clothespins on her nipples. She puts her into a balltie making it so she can really only move her hands and feet, and leaves her there.
BONUS UPDATE
I know it should say Monday update but I don't have a new clip to post that is not a custom video. I don't want to post customs as regular updates since they are customized to a specific persons taste so  Monday evening/ Tuesday am I will post a brand new non-custom video as the official update.
Members right click here to download part 1
The first row of images: approximately 9 minutes, In part 1 JJ & Carissa struggle on the sofa tied up & gagged with an over the mouth gag.  Halfway thru their blouses are pulled down.
Members right click here to download part 2
The second row of images: approximately 8 minutes and 30 seconds, JJ & Carissa are now struggling with their tops pulled down and are ball gagged.
Members right click here to download part 3
The third row of images: approximately 14 minutes and 3o seconds , JJ & Carissa are now in lingerie and struggling on the floor. Halfway thru the bad guy returns and hogties them and swaps the 2 inch ballgag out for a 3 inch ballgag.