Posts Tagged 'Katarina Blade bondage'
Want to own this clip and not a member here? Purchase it from my clips4sale studio this month by clicking below and I'll get 100% of the money instead of the usual 60% which is Covid relief for us from the owner there 🙂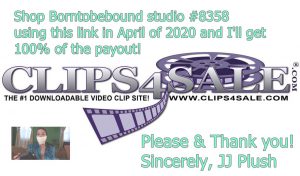 members right click here to download this mp4 or left click to stream
full clip, run time 25 minutes and 58 seconds
members right click here to download this mp4 or left click to stream
walking, chest pulled down & hogtie run time  13 minutes and 45 seconds
Beautifully built and tall Katarina Blade  from the Czech Republic walks effortlessly in 7″ platform heels through an olive grove to a platform where I tie her up. First she wears a small ballgag and then a larger one. Her nipples are clamped and her chest is tied down to her knees. Ready to be rid of that big red ball I put big pink panties in her mouth and wrap her head with an entire roll of vetwrap. Then it is time to hogtie her. I was just going to leave her free to roll around but she isn't much of a mover in bondage so I tie her off over head and tie her stocking clad toes. Lastly she gets a blindfold (from hottbonds.com). She eventually says JJ, OK signaling that she is done but she lets me tape for another 1.5 minutes before starting to untie her.
This clip was made possible by the good man at supertightbondage
first video I've ever posted with Katarina Blade, see much more of her at my friends site,  supertightbondage.com
members right click here to download this mp4 or left click to stream
full clip, run time 25 minutes
members right click here to download this mp4 or left click to stream
mostly struggling, run time 7 and a half minutes
 I'm in Spain after the bound1 event in Munich with this beauty Katarina Blade, we begin with her cuffing her hands in front and putting ankle cuffs on, then I try a few gags on her before she stands up and is cuffed with hands over head. I add nipple clamps and put some weight on them, she then starts a cute little dance using one foot to try to keep the weight from dangling so heavily. Next she gets hogcuffed on top of the cage, with more weighted nipple clamps and the scene ends with me removing them.
There was more of a gag demo but the camera decided to have some sound problems and a very terrible noise occurred on some of the clips. I cut those scenes out, the parts with her standing and laying in bondage had no such problems, thankfully.