First update of the week
members right click here to download this mp4 or left click to stream
run time 21 minutes, lots of struggling
Lilly Bee is at her favorite bar, she tells him that she feels like someone is watching her all the time. She is a judge on a big case. When she leaves and gets in her car she is taken by surprise when a woman pops up from the backseat and chokes her out. When she comes to she has been tied up and ballgagged in a chair at a strange place. She struggles and struggles and finally gets out of the chair and waddles with her legs tied up the aisle of the warehouse she is in. Much to her dismay the woman appears, sets her down, adds more rope and material to her gag and leaves again. When she returns she takes that gag off only to stuff her mouth with a hanky and wrap her head with more of that material. She is hogtied, her pretty long hair flowing about. She just moans in distress with no idea of what will become of her.
BONUS UPDATE!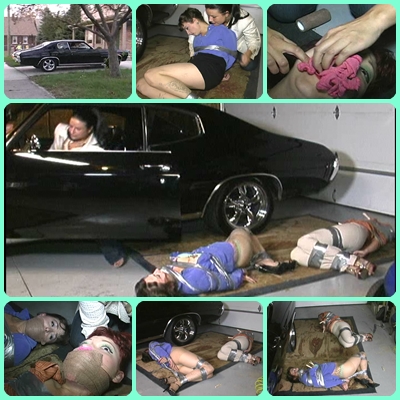 members right click here to download this file or left click to stream
run time over 16 minutes

JJ is sick and tired of her obnoxious neighbors driving fast with loud music in their perfect 1972 Chevelle. She has a plan to shut them up…She hides in the car one evening over powering the first girl and then duct taper her shoving a shop rag into the womans mouth, then she wraps her head with vetwrap, nice and snug. She is sounding extremely muffled. The irritated neighbor then rips openLilly's blouse and manhandles her boobs. Her worried roommate Cherry comes out looking for her and JJ quickly begins to tape her up as well. Then she opens up Cherry's blouse while she sleeps and manhandles her. The irritated neighbor stuffs her mouth with a rag and wraps vetwrap around her head while telling the women she is going to take their car for a little ride. The two girls struggle for a bit befoe JJ comes back with clothespins for their nipples. Then she drags Lilly to a place where she can easily hogtape her. Then it is Cherry's turn to be hogtaped. JJ lets them struggle going into their house to see if there is anything else she wants to take, but then just decides it is the car she wants to take for a joy ride and she leaves the two women there to stuggle. They won't be a bother tonight!!
FRIDAY UPDATE
members right click here to download this file or left click to stream
run time 45 minutes
A pretty girl runs out of gas on her way to a wedding. She walks up to a door and asks the perfectly normal seeming woman that lives there for help. The woman offers to give her a ride to the wedding, but she has other ideas. She leads the girl through her house and to the garage. There is a dusty old car in there and the situation is starting to get creepy, so she decides she needs to get out of there, but before she can reach the door the wacky home owner overpowers her and ties her up. She finds herself dangling in a strappado position. The woman quickly gags her with a nice sized black ballgag and then she starts to remove her long dress. The girl stands there with her arms up behind her and her ankles crossed balancing in only her stilettos and black thigh high stockings. The homeowner adds nipple clamps as a decoration and tells her that shortly another woman will be joining her…a makeup sales lady that would not stop pestering her. She ties the girls nipple clamps down to her ankles and lets her beg to be let go of for a while before she decides to let her down from this position…only to hogtie her on the cold filthy concrete. The homeowner tells the pretty girl that she has a few guys coming by later that pay really great money for pretty girls like her…Then she humiliates her a bit takes her shoes off and decides to put them on herself before she finishes off the hogtie and tells the girl to struggle…After some time the woman removes her scarf and ties it around the girls head, blindfolding her so she can get some rest. She also attaches the hogtie rope to a rope overhead so the girl can't get too far at all….
MONDAY UPDATE
members right click here to download this file
run time 46 minutes

Lilly Bee is a realtor and about ready for an open house on a property. A police officer comes to the door about an hour before the showings begin. He tells her she is under arrest for a warrant. She complies with him as he cuffs her and puts legs irons on her. She promises him the parking tickets have been paid. He puts her in a cage there and shuts the cage. He leaves and another woman comes in. The officer wasn't an officer, just a person there to help JJ with her plan to get  back at the realtor for knowingly selling JJ a terrible property. JJ opens the cage up and adds rope to Lilly. Tying her cuffed hands back and shackled ankles up and her hair back. She gets a spreader gag which is tied off overhead. Her heel is removed and used to torture her feet. After bit she is removed from the cage, her mouth stuffed with a hackysack ball and electrical tape used to keep it in. Lilly also gets put into a balltie and a stocking cap over her pretty head. JJ leaves her there for her potential clients to find her.

MONDAY UPDATE
members right click here to download this file
run time 17 minutes and 15 seconds
Dixie and JJ usher Summer and Lilly into the room. Their wrists have been tied already and the girls go to work tying up their ankles, then above their knees, and summer gets a rope under her ass. Dixie removes her scarf and shoves it in Lilly's mouth and wraps her head with vetwrap. Summer gets her panties cut off and shoved in her mouth and gets vet wrap. Both girls are pretty miserable in their gags and forced to get on their knees. Summer's elbows are welded together and Dixie makes a chest harness for Lilly. They are helped to their butts and JJ makes a chest harness for Summer. The ropes are so tight on her that she starts to sniffle because she is so miserable. They get hogtied and are left to struggle. The two women steal the dog that belongs to Summer and Lilly as some incentive for the girls to pay them back the money they are owed. Summer can hardly move and Lilly does her absolute best to escape. She manages to get her wrists out and frantically goes to work unwrapping the rest of her bindings, as soon as she is loose enough she goes to work untying her miserable friend. She works with record speed, once untied enough they unwrap their gags and mention needing to get their little dog back.
MONDAY UPDATE
members right click here to download this file
run time 25 minutes
Lilly Bee sits with me wearing a blue velvet jumpsuit. It fits her perfectly. I tie her legs and have her gag herself with a big red ballgag. She gets a boxtie, crotch rope, mouth stuffed and head wrapped with blue vetwrap. she gets hogtied with a nice arch and then a stocking cap with blue electrical tape over that and then the stocking cap pulled back. She can't reall move. At the end I show the gag coming off and she tells me that is her tightest hogtie ever and that the boxtie was a real challenge. I thought I was being nice putting her in a boxtie but I guess not!
WEDNESDAY UPDATE
members right click here to download this file
run time almost 24 minutes
The creepy couple are trying something new- taking on a lot of girls to make a clip for their clips4sale store. All of the women have been tied at the wrists and ankles. They are all wearing red ballgags and struggling on the couch when Dixie comes in and puts chest harnesses on 3 of them and elbow ties on the other two. Once they have been sufficiently tied up, one by one Dixie shoves panties in their mouths and wraps their heads with vetwrap. All of them women struggle on the couch before getting to the floor one by one to be hogtied, aside from the one with the broken foot, she gets to stay on the couch. Once the girls are hogtied the couple decide to straddle JJ and bang on top of her (simulated).
WEDNESDAY UPDATE
members right click here to download this file
run time over 34 minutes
Lilly Bee was back for one clip this evening. She has been tied to a chair in tight shiny pants and over the knee boots. She is wearing a 2 inch red ballgag that wouldn't fit between her teeth if it were any bigger. She moves around and I add more rope, open up her blouse so we can get a look at her pretty black bra. I remove the gag and leave it around her neck as a necklace and then use thick ace bandaging as a cleave. This one causes her a lot of discomfort. I add more rope, open up her blouse and remove that gag. I get out a pair of SIZE 12 satin panties and put them in her mouth (MOST mouth panties are size 5 or 6). We aren't sure if they will fit but give it a try…They fit. I have her hold them in her mouth while I find some clear tape. I wrap that around her head and we get a nice clear view of her wide open mouth and those huge panties. Panties that she and I could BOTH fit in. lol. I pull down her bra and start to wrap twine around her boobs for some breast bondage. She gets to choose her nipple clamp from 3 kinds. I put those on and she struggles a bit and then I remove that gag and put an entire red shop towel in and use a stretchy piece of fabric as a cleave to keep it in. I take off the clamps and double up rubber bands to put around her already bound boobs. I'm not done yet…She gets another gag…that one comes out and then another red shop towel put in and duct tape wrapped around her head. After we get to enjoy that look I add a hood that matches her pants with the eyes and nose cut out. Then I add electrical tape to her boob torture. She struggles in the chair and I tell her I'll be back for her later. * At the very end of the clip you see some breast bondage coming off and she tells me which gag was the worst.