BONUS UPDATE
We are gagged on screen and hogtied on screen, the rest of the tying is not shown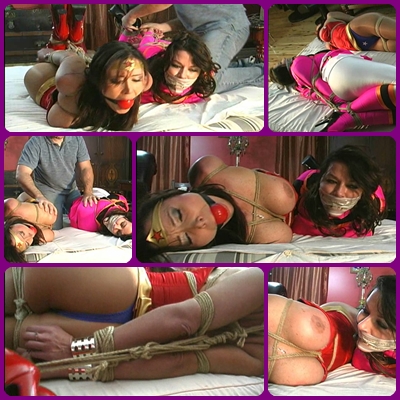 12/26 The audio should be working just fine now.

members right click here to download this mp4 or left click to stream
run time 14 minutes
Eric dozes off on the couch reading a comic book and drinking a beer. He says out loud that he'd really love two superheroines to tie up….When he wakes up, he slaps himself to see if he is still sleeping, two superheroines are wrestling with one another on a mattress right on the floor in front of where he fell asleep. He watches for a bit before one of them k nocks the other one out…then he moves in on the other. He c hokes her out and when the come to they've been tightly tied with rope. They argue back and forth about whose fault it is, not sure if they should even try to untie one another…but it's too late, the dreamer comes back with a rag to stuff a face with and then he wraps her head tightly with tape. Next he gags w woman Christina Carter with a huge red ball. The two wriggle around on the bed without any sign of struggling free. He comes back with a big more rope and puts the two mmmppphing powerless superheroines into brutal hogties, leaving him there for his own viewing pleasure.