write in this blog I mean…
I took out my hair extensions today…I need to do that from time to time. I need to see how my real hair is doing and really feel my scalp, lol. It has body and it is getting healthy which is really nice, but it still isn't long. I had killed it with the blond and then I put in extensions that were even more damaging  for  a while and it fell out at the root. I finally found something that doesn't cause much damage so that is goood.  Since the extensions were out I had it lightened a bit more…In July I had the black stripped out and it was various shades of dark brown. I wanted it lightened to a very dark blond or light brown but what happened today is a  reddish/brownish/dark blondish….It is a pretty color but I tend to like extremes like black or white….or very short or very long and right now it isn't black or white or very short of very long, lol.  I've had it close to this color before, also by accident….it seems to WANT to be this color, lol.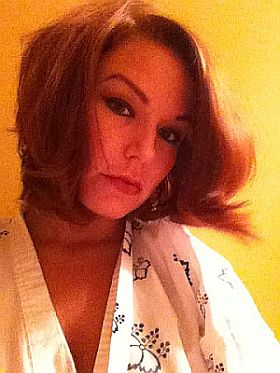 Above is a photo of me in my robe right after it was done, about an hour ago,  AND for you fellas that LOVE the long hair. NO I did not chop off my real hair….yes I did take out my extensions and they will go back, in the proper shade. lol.
On another note…I logged into clips4sale and took a look at my best selling clips ever. A few of them really surprised me, they sold a lot over a long period of time and not right away…I'm not good at looking at any kind of stats…which sometimes I think is to my advantage and other times not so much. I'm locating those clips on old hard drives and I plan on posting them here within the next week.
Todays update is an older clip of Serene….but whenever I post an older clip, I'll post a new one as soon as I can get around to it as an apology for posting an old one, for those of you that may have bought it on clips4sale in years past. So three NEW updates a week…and then who knows how  many older ones I'll be adding as I locate them.
I did try out and love an image gallery program the other day. It was rather intuitive and made sense to a computer dummy (me). When they sent me the link to download the real program all I got was an error message and I had others confirm just in case I was somehow doing something wrong on my end. I emailed the company three times….never got an answer. Today I visited their website and filled out a trouble ticket. Hopefully they will respond later today since I already paid for this thing. No members have asked for images, but I'm excited to offer them…This will be the first time I've been able to offer image galleries ever, unlike the clips which I have been posting for a few years…
On another note lovely little tough blond girl Adara Jordan is supposed to come this weekend. I'm looking forward to working with her and HOPE she actually makes it. She had to cancel last time. I believe Amaya Solace is coming next week. I get to shoot with Carissa Montgomery again shortly thereafter and then GG from Jersey will be here and Steve and Vanessa Villa! I get two weeks of blonds and then a week of milfs. If anyone would like a custom with any of those ladies check out the custom area and send me an email.
Goodnight everyone and Happy Friday.