BONUS UPDATE!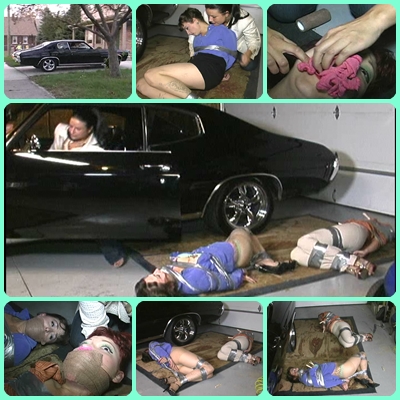 members right click here to download this file or left click to stream
run time over 16 minutes

JJ is sick and tired of her obnoxious neighbors driving fast with loud music in their perfect 1972 Chevelle. She has a plan to shut them up…She hides in the car one evening over powering the first girl and then duct taper her shoving a shop rag into the womans mouth, then she wraps her head with vetwrap, nice and snug. She is sounding extremely muffled. The irritated neighbor then rips openLilly's blouse and manhandles her boobs. Her worried roommate Cherry comes out looking for her and JJ quickly begins to tape her up as well. Then she opens up Cherry's blouse while she sleeps and manhandles her. The irritated neighbor stuffs her mouth with a rag and wraps vetwrap around her head while telling the women she is going to take their car for a little ride. The two girls struggle for a bit befoe JJ comes back with clothespins for their nipples. Then she drags Lilly to a place where she can easily hogtape her. Then it is Cherry's turn to be hogtaped. JJ lets them struggle going into their house to see if there is anything else she wants to take, but then just decides it is the car she wants to take for a joy ride and she leaves the two women there to stuggle. They won't be a bother tonight!!