Archive for the 'Elbow tie' Category
FRIDAY UPDATE
another video in the Kinky Couple Series

members right click here to download this file
run time 17 minutes and 40 seconds
The kinky couple- Dixie Comet & Tony pull their truck into the garage. They open up the back and a tied and gagged beautiful blond girl is in the back. They sit her up, untie her feet and walk her into their home. They take her to the basement. JJ has been down there for some time and can't believe they have captured yet another woman. They begin to tie her up. They pull out the blond duos big boobs and stuff JJ's mouth with a big pair of panties. They wrap her head tightly with duct tape while Carissa watches. They unwind the pair of panties that are being used as a cleave from Carissa's mouth and put a pink sock in it, then wrap tape around her head. The women struggle on the cold floor until the couple decides to hogtie them both and make them kiss through their gags. They leave them there to think about their next move.
WEDNESDAY UPDATE

members right click here to download this file
run time 26 minutes and 30 seconds
Summer struggles in a form fitting dress with a girdle and stockings underneath. She is in tight elbow cuffs, rigid wrist cuffs and short ankle irons. She is also wearing a 2 inch ballgag. I come into the scene and start to add rope to her. I have a tie in mind that I've seen done often by my friends at supertightbondage. I've never tried it….I'm hoping it will go well, especially with the addition of the elbow cuffs and wrists cuffs, but Summer is a good person to practice on. I tie her up some. I remove her ballgag, but a big pair of yellow satin panties in her mouth and wrap her head with electrical tape. She gets to the floor and I tie up each leg individually. One is pulled towards her chest and the other up to the ropes on her neck. I add more tape to her gag, squishing one of her eyes shut. I put her long beautiful hair back and tie it. She is really stuck. It is a little sloppy but it is VERY effective, she can not move let alone try to escape which she is so fond of.  I am semi satisfied!!!   I let her out when she has had enough. We hit record again at the very end when I let her remove her own gag.
MONDAY UPDATE
For you elbow tie fans Rinn has her elbows tied from start to finish in this clip!

members right click here to download this file
run time almost 22 minutes
Poor Rinn finds herself in a strappado with a big open mouth gag in a cold basement. After some struggling a woman comes into the scene and puts a crotch rope on her and pulls her arms up higher. She isn't wearing any panties but she is wearing stay up thigh highs. She struggles miserably for a bit before the woman comes and lets her arms down from the strappado, shoves a pair of panties in her mouth and wraps her head with duct tape. She makes her walk over to a couch and puts her into a hogtie on the couch and pulls her boobs out of her gown. She if left for a bit before the woman comes back and puts s pair of panties over her head and wraps electrical tape around it.
FRIDAY UPDATE
members right click here to download this file
run time almost 34 minutes
Vicious Vamp came for a visit. She absolutely loves to enjoy some tight bondage without the damsel in distress aspect so I decided to strap her up while she was wearing a lace and sheer outfit. I ask her a few questions before ballgagging her. I tape up her big beautiful natural breasts and strap her arms up tightly. I regag her with a sponge, electrical tape and a strap. She struggles for a while before I come back and hogtape her, remove the strap from the gag leaving the sponge and electrical tape there and then putting a pair of white satin panties over her head and adding the strap. She moans beautifully on the floor enjoying her bondage.
Bonus Update!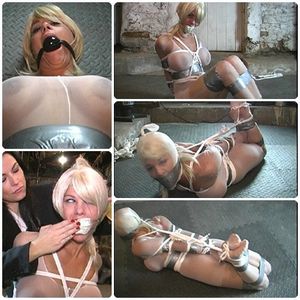 members right click here to download this file
run time over 14 minutes
Carissa Montgomery is wearing a pair of white shimmery pantyhose on bottom and one I've cut to make her a top out of. When the clip starts she has been duct taped tightly. I add a big ballgag to her mouth right as the clip starts. She struggles for us and then I begin to add white rope to her arms, cinching them to her body. Eventually I remove her ballgag and shove an enormous pair of white satin panties in her mouth. I wrap her head with clear plastic and the bad girl that she is she shoves a great deal of the wad of panties out of her mouth…which I didn't notice immediately but I fix that later adding a stocking hood and duct tape. I add more rope to her cinching her arms even more to her body and creating a crotch rope. She struggles before I add the stocking cap and tape and then hogtie her and soon pull her stocking cap back pulling her head back to her hogtie. She makes a beautiful package!! This was her  first encasement, and she's not used to having big gags in her mouth for so long, or her elbows tied for so long so it was a difficult clip for her. I had no idea, she did it with grace! Watch and enjoy.
FRIDAY UPDATE
members right click here to download this file
run time 17 minutes and 30 seconds
JJ wanders around the basement with her boobs tied up, a 3 inch ballgag between her teeth, and her elbows and wrists tied. tried to find a way out but the doors all seem to be locked. She goes up a set of stairs and opens the door, only for her captor to see her. She tries to run but he grabs her and throws her on the couch. He man man handles her and gets her to her knees. He gets more rope and then removes her giant ballgag. He put a big pair of panties in her  mouth and then another pair of small ones. He takes packing tape and wraps it tightly around her head. He adds rope to her ankles and then bends her over and ties her in a tight ball. Once he has her in the ball he grabs her boobs some more and adds clothepins to her nipples and he leaves her there. She thinks she is trapped that way but then rolls over onto her side.  She pulls hard to get out of the ball, but can't get anywhere.
WEDNESDAY UPDATE
Happy Halloween Everyone!
members right click here to download this file
run time 23 minutes

Carissa Montgomery went out to the bar and had a few too many. A seemingly nice girl offers to take her home. The offer seemed sincere enough, but she wakes up on her knees tied with her hands overhead in the girls back yard. Her mouth is stuffed with socks and there is bandaging wrapped around her head as a gag. She can't get away from the tree. The crazed girl approaches her asking if she likes her outfit which she tried to copy off of Carissa. She tells her she shouldn't trust anyone at bars including women and adds a tight crotch rope and ties her ankles up the tree as well. She tells the blond beauty that she will be back for her later. True to her word the girl comes back and unties her from the tree and unties her ankles. She uses the crotch rope as a leash and has Carissa walk across the lawn over to a patch of cement where she is told to sit. The girls ties her elbows and adds rope to her lower body. She cuts open her snug turtleneck and puts clothespins on her nipples. She puts her into a balltie making it so she can really only move her hands and feet, and leaves her there.
FRIDAY UPDATE
members right click here to download this file
run time over 32 minutes, elbows tied for over 20
Angelique Kithos and JJ are realtors and anxious to sell an old building for a huge commission and nice bonus. The two interested men (Tony & Ted Michaels) come in and check out the place. When they say they want to go down to the basement the two women tell them that they will wait upstairs since it isn't the best place to be in heels, but the men insist they come down so they do. Once down their the ladies ask what the two intend to do with the building. They mention that they do bondage videos and photos and that the basement is just purfect for it. They tell the women that they are definitely interested in the building but only if the two agree to let them test it out and agree to be tied up. They are very reluctant but reminded about the big chunk of change they will get when the men buy the place. The two get to work tying up the ladies, testing out their flexibility by tying their elbows, tethering their ankles so they can only take small steps, ballgagging them and making them walk across the room. The tell the ladies to try to yell for help and to try to get out of a side door, before unzipping one womans blazer, escorting them into another room with chairs where the other womans shirt is cut open and their gags are swapped out for panties and tight stretchy cleave gags. They are told to get to the floor where they are hogtied and left struggling for a while before the two come back and ungag them, telling them they are definitely buying the building.
MONDAY UPDATE
members right click here to download this file
run time 9 minutes and 25 seconds
Julie and I sit on the old sofa in girdles (girdlebound.com) fully fashioned stockings, heels, all done up. She has a lot of hemp rope in her hands and says to be that she didn't place in the awards at bondageawards.com and obviously needs more practice. I can't believe it since she is just about the best female rigger out there but if she thinks she needs practice I'm happy to be her guinea pig! She gets to work fast by tying my elbows up, pulling my chest down to my knees, putting a 2+inch purple ballgag bertween my lips and then pushes me over so I can struggle for a bit. When she returns she removes my gag only to take a roll of ace bandage and wrap it very tightly around my head pulling it tight and tying it off. My face is distorted, my cheeks are throbbing and I'm thinking she wanted to seek out some revenge at this point

Speaking of bondageawards.com you can go there and vote for allllll of your favorites. You don't have to sign up for anything and you only need to vote once. I'd love it if you would vote for borntobebound as the best new site. It is already there for you to click on. There are tons of other things to vote for as well. Being mentioned in the top 5 is great because it sends a lot more traffic to those of us that place.
BONUS VIDEO UPDATE
This was a custom video for Summer. If you would like a custom of your own take a look HERE

members right click here to download this file
run time 24 minutes
Summer is led into a room with her hands tied. Her elbows are tied and her breasts are bound with rope running across her nipple, two pairs of satin panties are shoved in her mouth and vetwrap is wrapped tighly around her head. She stands up so she can be crotchroped and then the crotch roped. Her hands are tied to the crotch rope and her wrists are cinched to her little body. A rope is wrapped under her ass and above her knees and then she gets to walk around my table a few times before she sits down and her ankles and knees are tied. Then vetwrap is wrapped around her eyes, a rope around her mouth pulling down to the base of the chair and her ankles are pulled back. She can't move much at all now, black tape is wrapped around her gag and she moves around slightly in the chair before it is time to let her go.